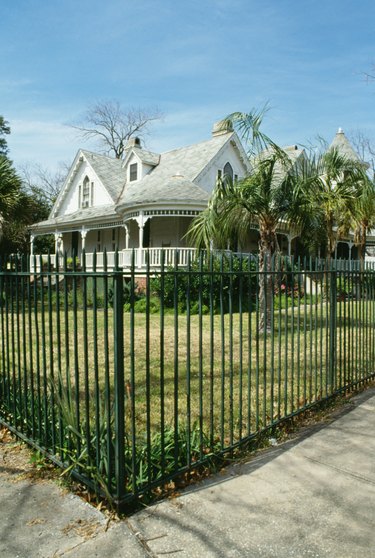 Fences can project a homeowner's personality on the front lawn. At the same time, this functional additional can protect the home from intruders in the back yard and define areas such as vegetable gardens or recreational spaces throughout an entire property. Their installation costs depend on the fencing material.
Costs
Fencing contractors generally estimate prices per linear foot, without distinguishing between labor and materials. Average fences are typically 5 to 6 feet tall, taller fences cost more and shorter ones cost less. Wood fences are usually priced at $15 to $25 per linear foot, while low-maintenance vinyl fencing runs $25 to $35 per linear foot. The cheapest fencing material, chain link, costs about $7.50 to $15 per linear foot. Estimates typically include not just the price of the fence panels, but also the costs of posts, gates, brackets, caps, hinges and other miscellaneous hardware.
Do-It-Yourself
To save on labor costs, you can install the fence yourself, which is easily within the realm of home handymen. You may want to hone your skills on a small installation, such as a picket fence on a side yard, before tackling a major project such as a wood-behemoth with gate in the front yard. Proper installation begins with planning and design, and purchasing the correct amount of materials with minimal waste. It then continues with digging post holes and setting up posts. It finishes with installation of fence panels and any gates.
Workers
The Bureau of Labor Statistics classifies fence installers under landscaping workers, whose wages differ according to employer and location. Mean wages for these professionals was $12.23 per hour, with lows of $8.16 and highs of $17.90, as of May 2010. Those working for building and dwelling services showed below-average means of $11.87 per hour, while those in local government boasted higher-than-average earnings of $14.36 per hour. Mean salaries were the highest in the District of Columbia at $16.79 per hour and Alaska at $15.78 per hour. Lower-than-average rates were available in Texas at a mean $10.79 per hour and Florida at a mean $11.04 per hour.
Invisible Fencing
If the primary purpose of the fence is to prevent pets from straying outside the yard, then wireless, invisible fencing might be more convenient, time-saving and cost-effective. Installation typically involves concealing a wire around the perimeter of an area, and connecting that wire to a transmitter. Radio signals traveling through that wire sound a warning to pets wearing a special collar when they approach the boundary, and lightly shock them if they cross the boundary. These fences cost about $110 to $300 for do-it-yourselfers, and up to $1,000 for professionals.
---
Aurelio Locsin has been writing professionally since 1982. He published his first book in 1996 and is a frequent contributor to many online publications, specializing in consumer, business and technical topics. Locsin holds a Bachelor of Arts in scientific and technical communications from the University of Washington.