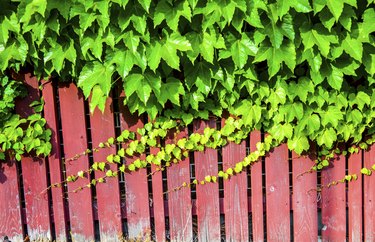 Good fences make good neighbors, but they don't have to be expensive. Instead of cedar, redwood or vinyl, you can build a simple privacy fence using a variety of recycled building products, or you can mix and match with new materials for a one-of-a kind fence you can be proud of.
Lattice Is Lovely
Lattice has long been used for privacy. It's airy, easy to work with and attractive. The 48-by-96-inch panels -- which are affordable and can be cut with a circular saw -- attach to decks and fence posts with staples, nails or screws. You also can make them into custom panels with the addition of 2-by-4 studs around the perimeter. Affix lattice panels on top of an existing fence that's not high enough, or stack them together for a semi-permanent fence that provides privacy while letting in light and the summer breeze. Lattice is typically made from weather-resistant wood like cedar, which will last for years with little maintenance.
Barns Are Best
The craze of barn wood has diminished since it gained popularity during the 1980s, but it's still out there. If you can find a moderate amount of it -- it doesn't matter if the boards are warped or cracked -- it makes an affordable privacy fence. Install a framework of posts, add some horizontal supports and attach the barn boards vertically, side-by-side, to form the fence. Leave the tops uneven for a rustic appearance. Barn wood is well-seasoned and can take a beating. Apply linseed-oil or oil-based stain, and this type of fence will provide privacy at bargain rates for years to come.
Pallets Are Perfect
Pallets are everywhere. You can pick them up at a warehouse for pocket change, and some are even free. Single pallets are not attractive but when assembled together create a textured appearance and solid barrier that keeps curious eyes and pesky dogs at bay. Sink some posts for a sturdier fence, attach horizontal rails and fasten the pallets in a more orderly fashion. With proper alignment, this type of fence almost resembles a picket fence. If you're ambitious, take the pallets apart and build a privacy fence using the slats as pickets. Pallets are made with rough lumber that responds readily to sealant or oil-based stain.
Doors Are Desirable
For privacy fencing with an antique flair, nothing works better than the real thing. Recycled doors are tall enough to provide the height, and most doors are no less than 30 inches wide. Screw a 2-by-4 stud at the top and bottom to make panels, and attach the panels to posts or between existing buildings or even trees. For a conversation piece, install one or two of the doors to swing open like a gate. It's fine if they're a multitude of different colors; it adds to the charm. If you don't like the rustic appearance, paint them all the same color. Leave the hardware on the door or remove it, depending on what look you're going for.
Panels Are Pleasing
Recycled panels of corrugated tin, fiberglass or anodized aluminum age to perfection with a multicolored appearance that's attractive and colorful. Attach the panels directly to posts for a cheap fence, or install the panels in a framework. Alternate the panels for design, interspersing them with wood, lattice or a combination of other materials.