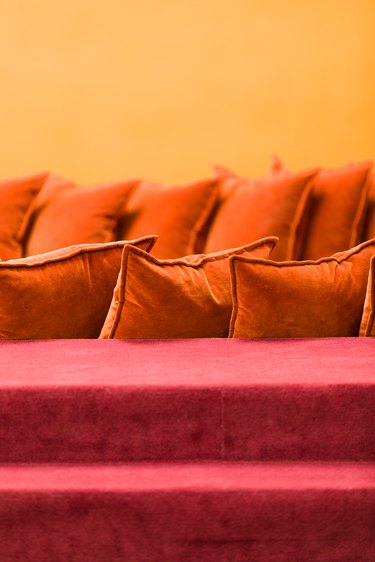 Carpet adhesive will keep your carpet secured to your hardwood floors but it can be a hassle if you tear up carpet only to reveal glue-covered floors. White vinegar is a natural solution that can dissolve old carpet adhesive without having to use harsh chemical strippers. Purchase white vinegar at any grocery or home improvement store.
White vinegar is completely natural, food grade and non toxic. It is a very mild acid capable of removing many alkaline stains and substances such as old carpet adhesive. White vinegar has a pungent and undesirable odor that will dissipate as soon as it dries. It is also an odor neutralizer that will remove any smells that may have seeped into the floor.
White vinegar is not as strong as chemical floor strippers, so you need to first remove as much of the adhesive as you can with other methods. To do this, soak the adhesive with warm water to soften it, and then scrape it up with a paint scraper. Be careful not to gouge the floors during this process. Continue until you remove as much of the adhesive as possible.
To use white vinegar, mix one part white vinegar with one part hot water. Apply the white vinegar solution to the old carpet adhesive and let it sit for several minutes. The solution will soften the adhesive and start to dissolve it. Scrub the floors with the grain with a soft-bristled brush to remove the rest of the adhesive.
Finish the process by soaking up the white vinegar residue with towels. Never let the floor air dry if they are hardwood, as that can cause them to buckle, warp and eventually squeak when you walk on them. Most floors will require sanding and refinishing. Finish the process with a coat of varnish to protect the floor from more stains.
---
Kaye Wagner has been working in the fields of journalism and public relations since 2006 and is a recipient of a National Hearst Award. She is particularly interested in home-and-garden projects, as well as beauty and fashion writing. An avid traveler, she also writes travel reviews and guides. Wagner earned a Bachelor of Arts in journalism from Brigham Young University.