An area rug is a great way to add a little warmth under foot, atop a cool hardwood floor. An area rug on its own slips easily when stepped upon, especially on smooth floors, such as hardwood or laminates. A pad underneath an area rug is well worth the investment for both safety purposes and to help that rug stay exactly where you want it.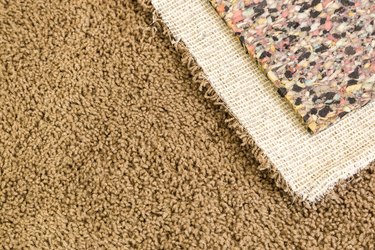 Pads for Small Area Rugs
The smaller and lighter weight the area rug, the more likely it is to bunch up or even slip when stepped upon. A small, lightweight area rug needs a pad that grips both the floor and the rug without adding much thickness; too much bulk under the rug adds an unnatural, chunky outline that detracts from the rug's good looks. A nonslip pad with a waffle weave design offers plenty of grip while allowing air to flow through, which helps prevent trapped, stale odors. Choose a rubber or natural-fiber gripping pad rather than a plastic version that may off-gas, emitting hazardous fumes. Look for a quality product that won't break down over time and won't stick to the finish of the floor; quality manufacturers often note such details in their product information, making your pad selection a bit easier. Explain to the rug-pad retailer the type of finish on your hardwood floor to ensure the pad purchased is ideal for your floor.
Pads for Medium Area Rugs
Medium area rugs are generally 4 to 5 feet wide and up to 9 feet long. Since these cover a bit more floor, slippage isn't as much of an issue, but cushioning is. A pad for a medium-sized area rug needs a bit of cushioning for added comfort when walking or sitting upon it. Look for pads with rubber or other gripping materials on the bottom and felt on the top. Felt does a great job of gripping the underside of the rug without causing damage, while rubber keeps the rug and pad from slipping on the floor. Pads with 1/8- to 1/4-inch thickness are ideal for most medium-sized area rugs, but slightly thicker pads add even more comfort in locations such as a bedroom or child's play area.
Pads for Large Area Rugs
Larger area rugs don't slide quite as much as their smaller counterparts, except in some high-traffic locations, such as in a living room along the path from the front door to a stairwell or hallway. If the rug itself is fairly heavy or thick, it may not need a nonslip pad at all. Rugs that are anchored under furniture also don't require nonslip pads. In such instances, a felt pad provides plenty of cushioning while protecting the floor. If the rug is thin or in a high-traffic area, pick a pad that offers plenty of cushioning with a little nonslip grip on the bottom.
Choosing a Pad Size
Pick a rug pad size that matches the area rug. For instance, an area rug 4 feet wide and 6 feet long should have a pad the same size, trimmed 1 to 1.5 inches on all sides. A rug-pad company can trim the pad for you in many cases. Otherwise, a pad can be trimmed with a utility knife and a large straightedge. Trim the pad over sheets of corrugated cardboard to avoid floor damage.
Keep the Pad Clean
Area rugs tend to trap dirt and debris, and so do the pads beneath them. Vacuum the area rug regularly and shake it outside when possible, then do the same with the rug pad, making sure to check both sides for debris. Sweep the floor in the area beneath the pad as well, as even one tiny pebble can scratch a wood floor's finish.
---
Kathy Adams is an award-winning writer. She is an avid DIYer that is equally at home repurposing random objects into new, useful creations as she is at supporting community gardening efforts and writing about healthy alternatives to household chemicals. She's written numerous DIY articles for paint and decor companies, as well as for Black + Decker, Hunker, SFGate, Landlordology and others.