Things You'll Need
Area rug pad

Double-sided carpet tape (optional)
Tip
You can anchor your area rugs with a heavy piece of furniture. This will keep the rug from slipping.
In choosing an area rug for a room, a general rule of thumb is to have the rug 2 feet shorter than the shortest wall length. So, for a room that is 12 by 15 feet, you would use an area rug that is 10 by 12 feet.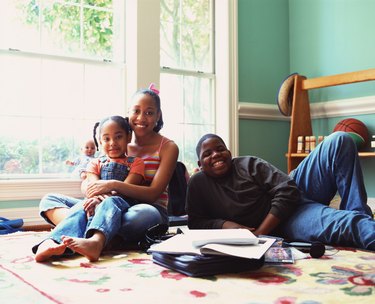 Area rugs make nice accents to a room, setting off a coffee table or entry point. But whether the rug is a large Oriental rug or a small, round area rug, it can bunch up when walked on. This is because the underside of the rug is smooth and glides over the carpet underneath. In order to stop this natural rug migration, you need a non-skid rug pad. Rug pads are available in a variety of sizes and shapes. Besides stopping the rug from bunching, they help with vacuuming by increasing the air flow. Keeping your rugs flat on the floor will provide additional safety as it's easy for people, especially the elderly, to trip on bunched rugs. And trips can lead to falls, which can result in broken bones.
Step 1
Buy a non-skid area rug pad that will fit beneath your rug. If you cannot find the exact right size, then buy a larger size and cut it to fit.
Step 2
Optionally, apply double-sided carpet tape to the back of your area rug, then stick the non-skid rug pad to the back of your area rug. The tape is for added security to hold the pad to the rug. While you could attach the tape side directly onto your carpet to hold the rug in place, when you would remove the rug later you would have tape residue left on your carpet.
Step 3
Place the rug with the pad underneath on your carpet. The non-skid pad should stop the rug from bunching up.