A hardwood floor is an investment that deserves an attractive, well-made area rug. Not only should the rug provide you with the comfort you desire, but it should also complement the look of the wood without harming it. The right combination of an area rug and rug pad with your hardwood floor will accomplish all these things to give you many years of enjoyment.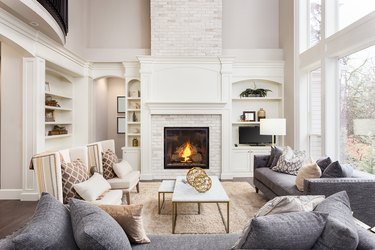 Natural-Fiber Rugs
Rugs made from plant fibers such as coir, jute, seagrass and sisal are often called natural-fiber rugs. They are tightly flat-woven to form a mat. Most are reversible, although coir and seagrass rugs usually have a latex backing. Synthetic latex, which may stick to or otherwise harm a hardwood floor, should not be placed directly on it. Natural latex rubber can be used, whether as a backing or as a rug pad under a natural fiber rug. Natural-fiber rugs made from plant fibers have a casual look that may be better suited for contemporary or Asian decor rather than a formal, traditional look.
Wool Rugs
A wool or wool-blend area rug is a common choice for a hardwood floor. Wool is comfortable, durable and easy to clean. They come in both a flat weave and a tufted wool. Wool rugs, and those blended with other fibers such as cotton, are available in a variety of styles and patterns to complement any type or color of hardwood floor and any type of decor.
Silk Rugs
A silk rug is perhaps the most expensive type of rug and is usually bought for its beauty rather than durability or practicality. Even silk accents on a wool rug will increase the price dramatically. However, a silk rug or silk-blend rug makes an attractive accent for a hardwood floor. Silk fades more easily than other fibers and is more fragile under abrasion.
Cotton Rugs
Although made from a natural plant fiber, cotton rugs are a category of their own. Cotton rugs lend a casual, comfortable look and feel to a room. A cotton rug is often a good choice for a hardwood floor that has a rustic look, but a variety of styles and patterns are available that would be suitable for many types of wood.
Synthetic Rugs
Today's synthetic rugs manufactured from viscose, rayon, nylon, acrylic or polypropylene achieve looks similar to some made from natural materials. Synthetic rugs are durable, and they are available in flat weaves, shags, short-tufted pile and other styles that can complement a hardwood floor. There are patterned and solid-color synthetic rugs to suit any decor. Some synthetics can display a shiny nap, while others may have a matte look.
Rug Pads
Rug pads protect the hard wood, prevent the rug from slipping and offer an extra cushion of support in thin rugs. They reduce dirt or sand settling through the rug that can scratch your hardwood or damage the rug. They will also protect the floor against moisture damage from liquid spills. There are several types of rug padding material to chose from to help protect your floors. You will need one of the following type of rug pad: polyvinyl-based pad, synthetic latex pad, natural rubber pad, felt pad, and felt-rubber hybrid pad.
Choose a rug pad based on the thickness and texture of the rug. A braided cotton rug may require only a thin pad to secure the rug, prevent slipping, and protect the wood floor from dirt and spills. A wool rug may scratch the floor and need a thick rug pad of felt or natural rubber to help prevent this.
Natural-fiber rugs offer no cushion underfoot, and require thick felt pads or natural rubber pads for comfort. Silk rugs need a thicker rug pad to protect the rug from fading, wear and tear. Rug pad thicknesses can vary a great deal, so choose a rug pad accordingly to protect your hardwood floor.