Things You'll Need
Measuring tape

Rebond carpet pad

Scissors

Carpet tape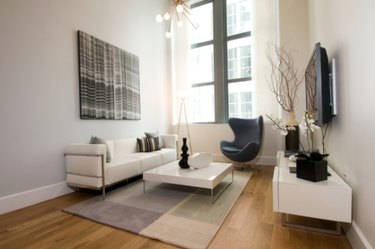 Rubber-backed rugs can damage your hardwood floors. The chemicals in the rubber can leave permanent marks on the floor or discolor the wood. The only way to safely use a rubber-backed rug on a hardwood floor is to put it over a safe-rug pad. Homeowners can tape the rug pad to the bottom of the rubber-backed area rug. This will protect the floor and provide extra cushion when you walk on the rug.
Step 1
Measure the length and width of your rubber-backed area rug.
Step 2
Subtract 1/2 inch from the both of these measurements. Cut the rebond carpet padding to fit these new measurements.
Step 3
Lay the rubber-backed carpet upside down so the rubber portion faces up. Lay the rebond padding over the rubber.
Step 4
Tape the padding to the rug using carpet tape. Run the tape along the edge of the padding, so half the width of the tape is on the pad and half the width of the tape is over the rest of the rubber backing on the area rug.
Step 5
Flip the rug back over and place it wherever you want on your hardwood floors. The rebond padding will protect the floor from the rubber backing on your rug.
---
Based in Richmond, Va., Dawn Gibbs writes about topics such as history, fashion, literature, crafts, alternative medicine and healthy living. Her work has appeared on GreenDaily.com and several style websites. Gibbs holds a Bachelor of Arts in history from Virginia Commonwealth University.