Purchasing a new home is bound to come with certain aesthetic changes that you may want to tackle to obtain your dream style. One of these typical changes may be updating the dated look of the cultured marble countertops to a more modern and pleasing color. The first thought to pop into your head is to change the countertop altogether and replace it with real marble. However, this can be extremely costly, so a pleasant alternative is painting cultured marble countertops a more suitable color for a fraction of the price.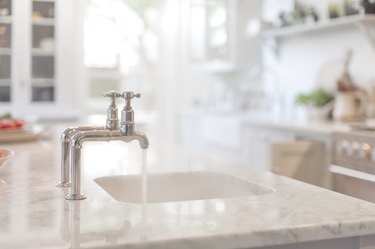 Cultured Marble Countertop Colors
Countertops made from cultured marble can come in a wide variety of colors. Most of these colors are within the lighter color palette, such as rose, blue, cream, grey or white. But there are still a few bold cultured marble colors to choose from, such as emerald green or burgundy. The cultured marble countertops are created using a blend of resin and stones to produce a realistic looking product with veins of color blending like real marble. Although marble has become a symbol of wealth and luxury, it does come with a hefty price tag. Cultured marble is a way to obtain this desired appearance without breaking the bank. However, it is not always the preferred look of certain homeowners.
Painting Cultured Marble
Changing the color of your cultured marble can be done using epoxy paint. This paint is extremely toxic and must handled while wearing a ventilation mask. It is important to follow the detailed instructions that come with the paint so that you are aware of how long the paint needs to rest before being able to apply another coat. Epoxy paint can be very finicky and needs very specific care in order for it to be applied smoothly and efficiently. This may be a very time consuming do-it-yourself renovation, but with lots of patience, this method can pay off in the long run. The joy of using epoxy paint is that you can select any color you desire to paint your cultured marble vanity. Simply make sure to purchase enough of the product because it can take many coats to get an even look.
Removing Any Scratches
Like many other surfaces, cultured marble countertops are not immune to scratches. These unfortunate scratches can leave the marble looking dull and cheap. Luckily, if the countertops only have scratches you wish to remove, it is also a simple sink repair that can leave them looking shiny and new once again. The only tools required are a buffer or polisher, 1000 grit sandpaper, marble polish and medium cut cleaner or similar polish.
The first step is to rub the sandpaper over the countertop to remove all minor scratches. It is important not to rub out deeper scratches because you run the risk of sanding off the topcoat on the cultured marble, leaving you with a bigger problem in the end. After the surface has been rubbed, remove all the dust by wetting and wiping the particles away. The next step is to use the buffer and buff the countertop. This will go faster if you have a small electric buffer, but this can also be done by hand if an electric buffer is not available. The final step is to now protect your new surface with the polish so that the countertop can shine like it did when it was first installed.
Painting or removing scratches from cultured marble is a project that any beginner can tackle. All it takes is a bit of research, lots of patience and even more time to dedicate to the project to make sure that the results are exactly what you were looking for.