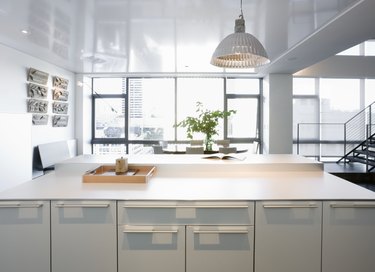 Formica or laminate countertops are often preferred for kitchens and bathrooms because of the material's ability to hold up to high traffic and busy living spaces.
This is also its downfall. Formica can begin to look hazy and dull with all that activity passing over its shiny surface. But you can rejuvenate Formica countertops easily with some household cleaners and a little bit of polish.
Tip
Cleaning Formica before buffing the countertop to a high gloss with car wax or other polish will ensure the end result is longlasting and gorgeous.
Prepping the Formica for Polishing
Thoroughly cleaning the countertop before polishing is highly recommended by Good Housekeeping. This will get rid of any dirt or stains that can ruin all the work of polishing.
First, use a neutral cleanser to remove dirt and grime, such as warm water and a mild liquid dish soap. Then, eliminate stains with a non-scratch cream detergent that is gently rubbed into the area. Use a nylon brush with the cleanser to remove stains that have found their way into the Formica's finish.
Check the surface for residual marks or scrapes from countertop appliances or other items. Remove these with window cleaner. Then, rinse the countertop clean and buff the surface with a soft cloth before applying a Formica polish.
How to Restore the Shine to Formica
If the laminate in the kitchen or bathroom has become dull or hazy, then it needs a bit of care to get it back to its former glory. There are a few ways to rejuvenate Formica countertops that are hazy or scratched.
Formica shine restoration requires the right products, but avoid any cleaners that contain acids or silicone. These can leave behind miniscule scratches that collect dirt and grim, gouging, discoloration or streaks that aren't removed easily.
A light layer of car wax rubbed into the surface of the laminate offers an instant shine and layer of sealant that can further protect the countertop. A gentle laminate floor wax can return color and shine to an old laminate countertop, as well.
How to Make the Countertop Shine
A commercial kitchen-counter cleaner should be gentle enough for everyday use where food is prepared and handled, while not leaving behind a waxy buildup that can dull the laminate. Many household cleaners can be abrasive in the long run, taking down the original luster of the laminate countertop.
Granite polishers can bring up the shine quotient quickly and easily. The commercial brands of granite cleaners and polishers pair well with the durable Formica. They clean the surface of the laminate countertops while also adding a no-streak shine.
Look for a non-toxic and biodegradable solution that also protects the natural seal while adding shine to the Formica surface. Always buff the countertop after cleaning and applying any final product to bring out the best shine.
Home Remedies to Make Countertops Shine
The same tried-and-true methods used to clean laminate flooring can be used on countertops. Molly Maid recommends using 1 gallon of warm water with 1 cup of vinegar and a few drops of liquid dish soap to clean laminate.
For stains and small scratches, make a paste with baking soda and water, then work it into the stain gently. Leave it there for a few hours, or overnight, before rinsing away. Use a dry, microfiber cloth to remove daily dirt and grime after the shine has been returned to the dull laminate to keep it from becoming hazy.
---
Kimberley McGee is an award-winning journalist with 20+ years of experience writing for a variety of clients, including The New York Times, Las Vegas Review-Journal Home section and other national publications. As a professional writer she has researched, interviewed sources and written about home improvement, interior design and related business trends. She earned a B.A. in Journalism from the University of Nevada, Las Vegas. Her full bio and clips can be viewed at www.vegaswriter.com.