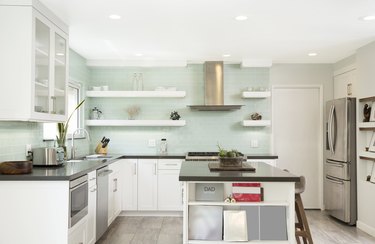 No matter how durable and chip resistant, breaks can appear in Silestone, particularly around sink and counter edges. A heavy, hot pan might be dropped or slip between soapy fingers and create a ding or chip in the countertop. Most small chips and cracks aren't going to affect the stability of the Silestone, but they can be unsightly. These can be filled and buffed out to blend in with the countertop.
Tip
A quality adhesive can repair chips in Silestone quickly as long as the area is thoroughly clean and dry.
What Is Silestone?
The engineered countertop material is a combination of natural quartz and raw materials. The characteristics of the quartz and materials make the material supremely hard and resilient to chipping, cracking and other repair issues.
Silestone is often used for kitchen countertops but also in the bathroom as flooring and even wall siding. It is nonporous and highly resistant to heat and cold, acidic liquids such as coffee and lemon juice and can stand up to busy kitchens. However, just like quartz, Silestone outdoor use as a counter workspace or flooring is not recommended. The color will fade under UV conditions, according to Countertop Specialty.
Prepping the Silestone to Repair
Before repairing the Silestone surface, it will need to be thoroughly cleaned. If the chip or crack is old, take a toothbrush or narrow cleaning tool with bristles to gently scrub dirt, food and grime out of the uneven area.
Use an ammonia-based cleaner to ensure that grease and any dust or other small particles are removed from the repair place. Allow the area to dry thoroughly before repairing. You want a completely clean and dry space so that the epoxy or glue will adhere well to the rest of the Silestone material surrounding the repair.
Tape off any areas you don't want to be affected by the adhesive if it runs, drips or oozes. If working on a sink or vertical area, lay down a plastic tarp or mat to catch any runaway adhesive.
Quartz Countertop Edge Chip Repair
If it's a large piece that has lifted from the main structure, then it can be glued back into place. Use a fast-drying glue and quickly swipe away any excess you can see once the piece is put back in place. For dings, small cracks and chips with missing pieces, use an acrylic adhesive, epoxy or resin to fill the space and buff to blend into the surrounding Silestone countertop.
Match the glue, if possible, to the shade of the Silestone with adhesives that include color enhancers. It doesn't have to be a perfect match, but it can help fill any gaps in a way that doesn't make it so obvious that a repair has taken place.
Silestone Care and Maintenance
Silestone maintenance can cut down on future repair issues. Keeping a clean surface not only helps to maintain the stability of the Silestone, it reduces the need to use sharp tools or grinders to remove caked on grease, grime and oils. Silestone cleaners and polishers can be used to keep the product at its pristine best.
Clean the Silestone regularly with warm water and mild dish soap. Silestone's sheen should withstand most mild cleaners and polishers. Steel wool or abrasive cleaning tools can dull the surface. Silestone USA warns not to use water repellents, sealants, paint thinners or other caustic cleaners with a pH of more than 10 on the product. Using bleach to clean seriously grungy Silestone won't hurt the material, but don't allow it to sit too long on the surface. This can cause discoloration over time.
---
Kimberley McGee is an award-winning journalist with 20+ years of experience writing for a variety of clients, including The New York Times, Las Vegas Review-Journal Home section and other national publications. As a professional writer she has researched, interviewed sources and written about home improvement, interior design and related business trends. She earned a B.A. in Journalism from the University of Nevada, Las Vegas. Her full bio and clips can be viewed at www.vegaswriter.com.