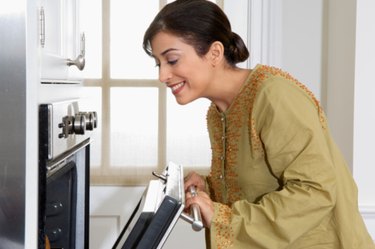 The KitchenAid Superbra line of wall ovens is available in single and double door models. When replacing the door gasket or repairing the door glass, it is necessary to remove the door from the oven. Removing the oven door from a KitchenAid Superbra oven is simple as compared to other models and brands. The door hinges lock using a latch that pivots up or down. Prepare for the weight of the oven door when removing it from the oven.
Step 1
Open the KitchenAid Superbra oven door fully. Push each hinge latch down toward the door with your finger. The hinge latch is the lever in the middle of each door hinge.
Step 2
Close the door as far as possible. The hinge lever prevents the door from closing all the way.
Step 3
Place your hands on each side of the Superbra oven door. Lift up on the door while pushing the door toward the oven. This disengages the door hinges from the oven. Pull the door completely away from the oven.
Step 4
Insert both door hinge hangers into the tab openings on the oven when reinstalling. Pull the door into the open position until you hear the hinges click into position.
Step 5
Push the hinge latches back toward the oven to lock the hinges into place. Open and close your Superbra oven door to ensure that it operates correctly.