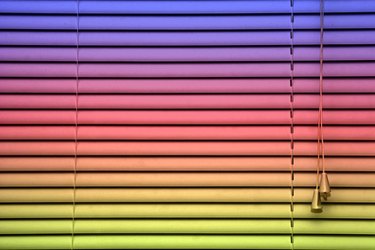 Horizontal slat blinds are good option for metal doors because they come in a variety of styles, colors and materials that will most likely blend in with the surroundings and fit on a door. The blinds should be 2 inches wider than the glass in the window and it should be 2 inches taller than the window to make sure it overlaps the glass. It is possible to install blinds on metal doors with a few materials.
Step 1
Mount the brackets 2 inches above the window and use a measuring tape for adequate placement. Hold the brackets against the door and use a pencil to mark the screw holes on the door. Make sure the bracket marks are level with each other and use a level to determine this.
Step 2
Align one bracket up against the marks you made with one hand and with the other hand, use a drill to attach the brackets with self-tapping screws. These screws drill their own hole and pilot holes are unnecessary. Make sure the brackets fit tight against the door.
Step 3
Slide the head rail of the blinds into the brackets. The head rail or long metal piece should fit snugly in the grooves of the brackets.
Step 4
Check that the blinds work correctly on the door and do not get in the way of the door opening and closing.
Step 5
Attach the valance over the head rail by lining it up with the valance clips and it should snap into place.