Wicker furniture is a wonderful alternative to traditional wooden pieces because it introducing a lighter, more natural feel to your furniture selections. However, wicker furniture is more apt to break, bend and warp than most traditional furniture pieces. But with the knowledge and abilities to tackle a DIY wicker chair repair, you won't have to spend money to hire a professional or purchase a replacement piece. Most repairs require reweaving.
Preparing Reeds for Reweaving
Replacement reeds are available at craft stores in a variety of diameters and styles. Buy reeds that match those on your chair. Also be sure they are at least 5 inches longer than the section you are replacing, because these ends will be tucked and woven in with the other reeds.
Soak the reeds in water for 30 minutes to an hour--or more, depending on the manufacturer's directions--until they become flexible. Dissolve a small amount of mild detergent in the water to prevent bacteria and mold from forming.
Fixing Missing, Broken or Warped Reeds
To replace missing or broken sections, follow the same weaving style used throughout your wicker chair. Insert and weave your reed through the existing reeds, keeping them tight and flush against the others until the faulty section is filled. It may help to take a photograph of the weave pattern used on your chair to be able to match the weaving style correctly.
If your wicker chair has a warped reed, simply wrap it in a damp cloth until the reed is again flexible. Reposition and tighten the reed into its original position. Secure with a clamp or small wood nail until the reed dries.
Rewrapping a Broken Arm or Leg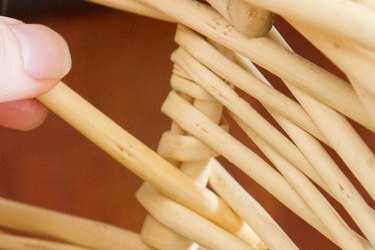 If the framework is still in good condition, rewrapping rattan reeds to fix the appearance of a leg or arm of a chair is easy. Secure the starting end of the wicker to the framework with a small wood nail. Begin wrapping the reeds or weaving the reeds in the same manner as used during the chair's construction. Wrap the reeds tightly and securely around the legs, periodically using small nails to keep them securely bound to the framework.
Finishing Touch
After replacing the broken section and letting reeds dry, apply a protective coat of lacquer or shellac to the chair to keep the wicker in its best shape. For extra color, paint the chair first with a high-quality primer designed for wood applications, and follow up with an oil-based, indoor-outdoor house paint in your desired color.
Considerations
If your wicker chair is an antique, do not attempt to repair it unless you are experienced in wicker repair. While repairs may be pricey, you do not want to diminish the value of the piece with shoddy craftsmanship.
Proper care and maintenance will extend the life and looks of your wicker chair. Keep it away from direct heat sources, since heat from fireplaces and the sun dry out rattan reeds and cause chipping and cracking. Avoid prolonged exposure to the elements as well.
To keep wicker furniture moist, use store-bought boiled linseed oil to nourish the reeds. Do not attempt to boil linseed, because it is extremely flammable.