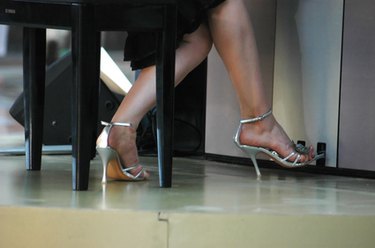 Laminate flooring and heavy pianos are a potentially damage-causing and yet visually pleasing combination. Whether you have a spinet, console, upright or grand piano, these instruments are heavy, clumsy to move, and can dent or scratch flooring. With proper care and prevention, however, pianos can sit on laminate floors without causing any scratches, marks or indentations.
Laminate Flooring
Laminate flooring gives the appearance of wood, stone and ceramic at a much cheaper price. It combines layers of melamine resin, fiber board materials and a photographic image of wood, stone or ceramic with lamination. The tough, clear layer on top is hardy and protective, but not invincible.
Types of Pianos
Horizontal pianos range in height from about 30 to 60 inches. The spinet piano is the smallest, at 36 to 30 inches. The console is one step bigger, at 40 to 43 inches. Most common are studio pianos, from 45 to 50 inches, with uprights being the tallest at 50 to 60 inches. All are approximately 58 inches wide.
Of the vertical pianos, the baby grand is the smallest, starting at 4-feet-11-inches and going to 5-feet-6-inches. The grand ranges from 5-feet-7-inches to 6-feet-5-inches. Concert grands, not typically found in homes, are 9-feet-long. All vertical pianos stand on three legs, and the keyboard side is approximately 58-inches-wide.
Size
Pianos are heavy, ranging in weight from 300 to 1,200 lbs. Small spinets range from about 300 to 450 lbs.; console pianos, about 400 to 550 lbs.; studio uprights, about 500 to 800 lbs.; and grand pianos, about 500 to 1,200 lbs. Moving is best done by professionals.
Damage Prevention
To prevent long-term damage to the laminate flooring by a heavy piano, caster cups should be used under each piano leg. Lucite, rubber, plastic and wooden caster cups are all effective in protecting the flooring from scratches.
For upright pianos, a face-down rug underneath the harp base of the piano will also protect the floor from all edges.
For all pianos, the area where feet rest to play the pedals and the actual pedals are also a concern. A protective plastic sheet or a small, attractive rug will protect this area from wear.
Warning
The other risk pianos present to laminate flooring is scratching while moving. Professional piano movers are experts at preventing damage to flooring while moving pianos, but if you attempt to move the piano yourself, use a face-down carpet underneath or a product such as Florguard. Florguard is a set of white, plastic strips that will protect flooring while moving or servicing heavy items.