Things You'll Need
Shims, wooden or plastic

Level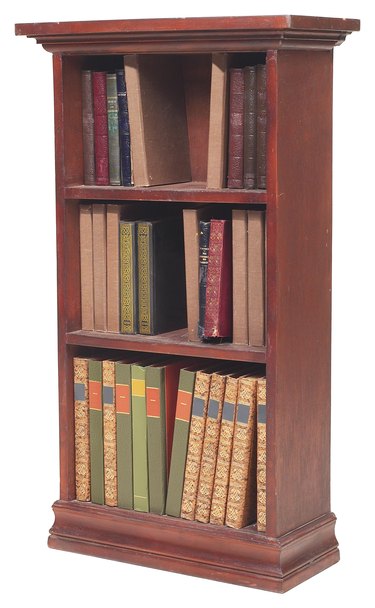 Bookcases grace almost every home in existence. They don't just hold books, either. They protect your favorite knickknacks, keep photo albums and records in good condition and fill wall space with a kind of literary charm. They complement your décor with warm wood tones and customizable styles. However, leaning bookcases can cause a very large problem. If your bookcases are uneven, they can fall over unexpectedly. Protect your family, and your books, by balancing bookcases with shims.
Step 1
Remove all knickknacks from the very top and top two shelves of the bookcase you want to straighten. You're going to be moving the case a lot and you don't want anything falling down on you or breaking.
Step 2
Gently push backward on the bookcase. If it's already leaning forward, it should tilt and move with very little pressure. This is what makes leaning bookcases both dangerous and easy to fix.
Step 3
Slide the narrow end of a wooden shim under the foot of the bookcase. Continue pushing the shim until its wide end is lined up with the bottom edge of the bookcase.
Step 4
Place shims at the right, left and center of the case. This allows for equal weight distribution.
Step 5
Place a level across the top of the bookcase. The bubbles should sit in the center of each liquid tube. If the case still tilts forward, add a second shim on top of each existing shim. If the case leans backward, you may pull the shims out a little or leave them alone. A backward-tilting case is very stable.
---
Megan Shoop has Bachelor of Arts in English literature and is proficient in both AP and MLA styles. As an editor of her college newspaper for one year, she assisted with copy editing, proofreading and layout design. She also wrote art and movie reviews and articles about campus events.