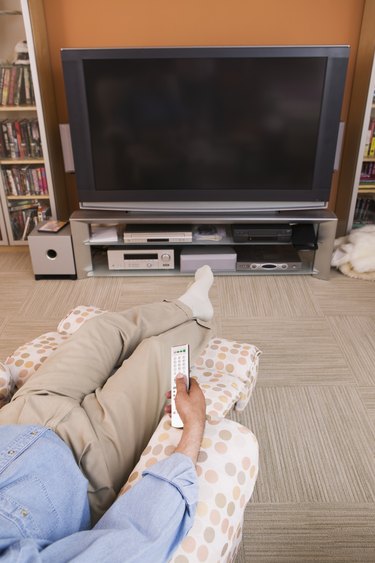 At the end of a long day when you flop into your recliner for some rest, the last thing you want is to sail across the room on your chair. Recliners that slide around on hardwood floors are more than just an annoyance -- they can also permanently scratch your wood floors. There are several ways to stop a recliner from moving around on wood floors, and most options are inexpensive, quick fixes.
Rubber Grippers
Rubber grippers stop your recliner in its tracks. Rubber grips the bottom of the recliner and the floor without sticky adhesive, which can leave residue behind. They're also not permanent so you can easily dispose of them if you move the chair to a carpeted area. Most hardware and furniture stores will have several varieties of rubber grippers available. Many products are small discs meant for furniture that sits on four legs. Although recliners often sit on a metal framework instead of legs, these small discs will still work by arranging them at the four corners of the framework. Or you can purchase a no-slip rubber pad meant for area rugs. These rubberized pads come in sheets that can be cut to size. Simply trim the edges to the appropriate size so the pad doesn't show underneath the recliner.
Cork
Cork is another, more natural option for stopping recliners from sliding on wood floors. Like rubber grippers, cork is also a non-permanent, non-adhesive option. Buy pre-cut cork squares and arrange them under the recliner's metal framework at the four corners. Or buy a cork square just slightly bigger than the metal framework and sit the recliner on top of it. While cork is an environmentally-friendly option, it will likely be thicker than the rubber grippers, so the recliner could sit higher. The chair also may sink into the cork over time; while this won't cause the recliner to slide, it could sit askew unless the cork wears down evenly on all sides.
Small Mats
Unlike traditional chairs, recliners have an advantage in that you cannot see underneath them. Take advantage of this hidden area by sitting the recliner on a small mat with a no-slip bottom. The mat will remain invisible underneath the recliner and prevent it from moving around on the hardwood floor. Buy the smallest mat possible that still covers the metal framework area. This helps ensure the mat remains hidden. Consider purchasing a mat that matches either the recliner or floor color so it will be less visible when the recliner is open.
Options To Avoid
Furniture cups and "feet" are common products sold in hardware or home improvement stores, but there are several types you should avoid for use on hardwood floors. Chief among these are plastic cups. Bare plastic has little gripping power and probably won't stop your recliner from moving around. It also can scratch your floor's surface. While felt-bottom cups won't scratch the floor, they also have little gripping power to stop the recliner from sliding. Also, products advertised as cups usually are shaped like miniature bowls and are meant for furniture legs. They won't work well on the metal framework of a recliner. Additionally, avoid any product that needs to adhere to your recliner's bottom or the floor as these can leave behind a mess if you decide to move your recliner to a new location.