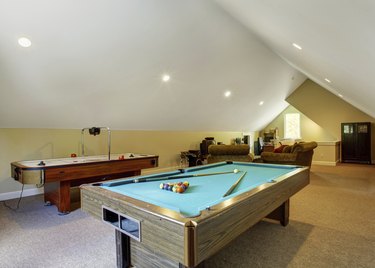 One bummer about having heavy furniture is the indentations it leaves in the carpet when you rearrange the room. If you like to periodically spice up your living quarters by changing the positions of furniture in a room with carpet, you've probably experienced this problem. While you can get the indentations out overnight by leaving one, two or more ice cubes on the spot, you can avoid them altogether with the right products.
Spiked Caster Caps
Sometimes called caster caps, set one of these under each leg or furniture foot of the heavy couch, chair or table. The top side consists of a plastic or rubber round circle or square on which the foot of the heavy furniture rests. On the side that faces the carpet, note the many spikes that protrude into the carpet to separate, rather than indent the carpet strands. While super-heavy furniture may still leave an indentation, with this type of protection, it springs back quickly after vacuuming.
Furniture Foot Pads
Another product, floor pads, make sliding furniture along the carpet easier when you need to move it. Usually squares that fit under the feet of heavy furniture, these may still leave an indentation. But if you periodically move the furniture to one side or another of its current location by just a couple of inches, this can prevent the weighty furniture from creating lasting indentations in the carpet.
Area Carpets or Rugs
To protect area carpets or rugs from the effects of weighty furniture or if you are adding new wall-to-wall carpeting, install a rubber or memory foam pad on the floor beneath the carpet first. This aids in the prevention of the breakdown of the fibers in the carpet from the weight of heavy couches and chairs, which is distributed through the furniture's feet. Move the furniture at least once or twice a month a few inches to vacuum the pile to return it to its natural shape.
Heavy Pool Tables
Before setting your pool table down on a carpet, add rubber tips to the bottom of the feet to protect the carpet. Place a tarp on the floor to protect the carpet from pulls and tugs as you move it in place. Besides the dents that a pool table leaves behind, wooden legs sometimes bleed some of the stain into the carpet with the changing indoor climate or spills down along the pool table. In addition to the rubber tips, add a round or square carpet protector beneath the legs of a pool table. You can also lay clear plastic sheeting beneath the pool table to protect the carpet if you don't mind the look.
---

Laurie Brenner
As a native Californian, artist, journalist and published author, Laurie Brenner began writing professionally in 1975. She has written for newspapers, magazines, online publications and sites. Brenner graduated from San Diego's Coleman College.