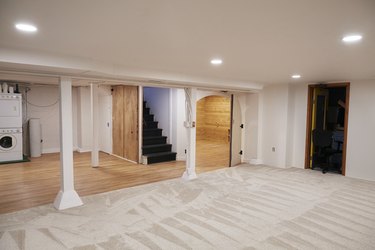 If a concrete slab subfloor is above grade, flat, and in good condition with no cracks, chips, or ridges, then almost any type of floor covering is appropriate, and the "best" choice depends on your design needs and budget. Even such unlikely candidates as carpet and solid hardwood can work if you choose the right product and install it correctly.
If the concrete is in poor condition or below grade, then that's a different story. Some floor coverings, such as engineered flooring, aren't recommended for below-grade installation (i.e., basements), and installing them there will void the warranty. If your concrete subfloor is above grade but in less-than-perfect condition — and you don't want to repair it — you're better off with a flexible material.
Choosing Flooring According to Budget
If you're covering an above-grade slab in good condition, budget may be a determining factor, and if so, here's a list of options from least to most expensive:
Ceramic tile is the most durable choice and will last for 50 or more years. Hardwood will last more than 20 years, and the others will last from 10 to 20 years. LVT and LVP are especially good choices for concrete because they are waterproof and easy to install.
Choosing Flooring for Style and Comfort
When it comes to style, your own design preferences are the most important factor, but the choice also hinges on the design motif of the room. Laminates and hardwood look especially vibrant in a room with painted walls and plenty of light, and so does ceramic tile. LVT and LVP can also look vibrant, but they are better suited to a darker space because too much light can accentuate the artificiality of vinyl. In a kitchen or utility space, sheet vinyl and linoleum can stand up to spills and heavy traffic, and they come in a wide enough array of designs to match cabinets.
One thing to remember about concrete, though, is that it's hard and cold. That's a con for ceramic tile, which is equally hard and cold, and a vote for LVT, LVP, carpet, and even laminate if it has a cushiony underlayment. If your slab has radiant heating, laminate, hardwood, and vinyl are all good heat conductors and should be in the running. Stay away from carpet and rubber, which will insulate the floor and prevent the heat from radiating.
Best Choices for Damaged or Below-Grade Floors
When a concrete floor is cracked, spalled, or uneven, a rigid material, like hardwood, is a poor choice because it can crack under stress. You may be able to use ceramic tile if you first install a decoupling membrane, which separates the tile from the concrete and prevents it from cracking, but even then, you should resurface the floor first. The best materials are LVT, LVP, and laminate (with a thick underlayment). Sheet vinyl and linoleum are very thin and will telegraph the subfloor defects to your feet, so they aren't great choices either.
A below-grade floor, such as a basement floor, presents a moisture problem even if you lay down a moisture barrier, which you should always do when covering a concrete floor. Solid and engineered hardwoods and laminates are most affected by moisture and should be avoided. The best choices for below-grade floors are materials that don't have to be glued and are waterproof, such as all-weather carpeting, LVT and LVP, and rubber tiles.