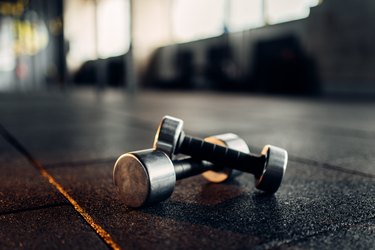 If you've ever been in a gymnasium, a fitness center or a medical facility, then chances are you've seen and walked on a rubber floor. As a type of floor that's designed for heavy foot traffic, rubber flooring is not usually something you'd see in a residential home.
Times are changing, however, and more and more people are seeing the benefits of installing rubber flooring in their homes. However, because the idea of installing rubber flooring in your home is not as commonplace as other types of flooring, it's a good idea to understand a little about what you'd be getting yourself into before making the investment.
According to BuildDirect, rubber flooring is a type of flooring that's made from synthetic materials or natural tree rubber. In many cases, rubber flooring is simply repurposed from recycled rubber materials like tires. This type of flooring is extremely durable and is ideal in buildings where there are high-traffic areas and physical activity. This is why rubber flooring can often be found as gym flooring at a school, as children will be running and jumping on it all day long.
Rubber flooring in a home may be used for different purposes but would have the same characteristics no matter where it's installed. For example, families may want to build a playroom in their home with a rubber floor to give their children the space to run around without causing damage to more sensitive flooring areas around the house. It could also be good to install rubber flooring if you have an elderly parent living at home, as rubber flooring is shock absorbent and will aid in mobility. Rubber flooring is also used as garage flooring.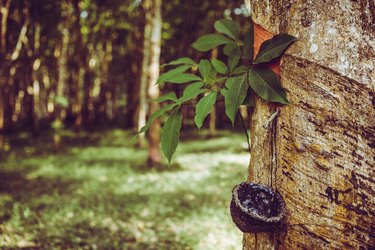 General Pros and Cons of Rubber Flooring
Before deciding whether or not rubber flooring is a good choice for you, it's important to take a look at the pros and cons of this material. According to Floor Coverings International, there are plenty of benefits of rubber flooring — but also several downsides that are worth considering before making the investment.
Rubber flooring is highly durable and stands up to wear, tear and dents much better than other types of flooring.

It can last up to 20 years.

It's soft on the feet.

It does not require a lot of maintenance or special cleaning, unlike other types of flooring.

Rubber flooring comes in a variety of colors, styles and designs. Though it may seem like rubber flooring is rather standard, these days you can find it in more trendy flooring options.

Rubber flooring is very resistant to water, so it is also great in areas that have a lot of moisture or can get wet, like a laundry room. It will not mold.

Rubber flooring is stain resistant.

There are many different ways to install rubber flooring depending on your needs, your budget and what type of rubber flooring you want.

Rubber flooring generally helps keep noise down.

Although modern rubber flooring does come in many different styles, it still may not be available in the look you're imagining and may not blend in well with other types of flooring in your home.

Rubber flooring can be cost prohibitive for many people, as it is one of the more expensive types of flooring.

It can have a distinctive rubbery smell.

Though rubber is resistant to fire for the most part, synthetic rubber in particular can give off toxic chemicals if it does catch fire or is exposed to extreme heat.

Different Types of Rubber Flooring
Those who need a floor that can withstand a lot of activity will find that rubber flooring is probably one of the best flooring options. Where you plan on installing your floor will help you determine what type of rubber flooring is best for you. First, understand that rubber flooring usually comes in three types of materials, according to Kiefer USA:
​Rubber floor mats:​ Rubber floor mats are generally used independently to place on top of a base floor. You can find them in entryways, horse stalls, gym flooring, garage flooring, factories as anti-fatigue mats or placed under a washer and dryer. It is also possible to use rubber floor mats to create an entire flooring area. To do this, you will have to get larger pieces that come with interlocking edges that can secure the mats together.

​Rubber floor tiles:​ Rubber tiles are the most popular option for residential and commercial settings. These tiles are versatile and lock together like puzzle pieces. They usually come in 12 x 12, 18 x 18 and 36 x 36-inch tiles but can be cut and customized based on the size you need, making it an easy DIY project. Typically, you can get rubber tiles in different styles and patterns, from sophisticated colors to a speckled design to fun, bright colors for a child's playroom or multipurpose area. If one tile gets damaged, you can replace it. They can be used indoors or outdoors.

​Rubber floor rolls:​ As rubber flooring can be expensive, rubber floor rolls are the most economical option and are therefore ideal for someone who wants to buy and install rubber flooring on a budget. They come in different colors and styles, even a wood look that gives it the appearance of hardwood flooring. Rubber floor rolls are meant to roll out to cover large flooring areas and are usually 20 feet to 50 feet long, which means you can easily cover an entire floor with just a few rolls. These are ideal for event centers and workout places as opposed to a home. The downside is that they can be a bit more difficult to install.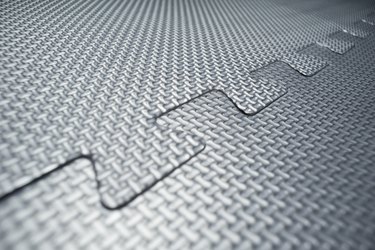 Synthetic vs. Natural Rubber Flooring
Within each type of flooring, there is also synthetic rubber flooring and natural rubber flooring/recycled rubber. Synthetic rubber flooring is also known as SRB, or styrene-butadiene, and natural rubber comes from recycled rubber materials like tires or the ​Hevea brasiliensis​ rubber tree.
There are many different types of rubber floors with synthetic rubber, like cork rubber flooring or EVA foam rubber flooring. Synthetic rubber in general is a type of vinyl flooring that's manufactured to have the look and feel of natural rubber flooring. It can be more durable than natural rubber, but the chemical processes involved in manufacturing it can result in the floor giving off volatile organic compounds.
Rubber Flooring Product Brands
Once you get familiar with the different types of rubber flooring products, it's worth comparing different brands to see which one offers the types, styles and prices for which you're looking. Some of the best rubber products from brands and manufacturers in the United States are:
Kiefer USA
Greatmats
Rubber-Cal
Flexco
Tuff-Roll/Tuff-Lock
Eco-Sport
Each one offers a wide selection of rubber tile choices at reasonable prices, with different styles, thicknesses, rubber materials and rubber products available.
How to Install Rubber Flooring
Compared to other types of flooring you can install in your home, rubber flooring definitely ranks as one of the easiest to install. However, depending on which type of rubber flooring you're installing — rubber floor mats, rubber floor tiles or rubber floor rolls — the installation process will be a little different. The most common types of rubber floor installations are glue-down, interlocking and lock-lay installations, according to the International Association of Certified Home Inspectors. However, there are also other types, like pour-down rubber flooring.
Because rubber floor tiles are the most common type of rubber flooring used in a home, it's helpful to focus on the installation method for these. These tiles typically come in puzzle form. Rubber floor tiles in puzzle form are extremely easy to install on your own, according to Rubber Flooring Experts.
To start, make sure you have enough rubber flooring tiles to cover your subfloor. Then, lay out the tiles to see how they will look. Once the tiles are laid out, do your border tiles along the perimeter of the room first. As you lay them, cut the protrusions on the sides of the borders so they lay flat against the wall. Then, simply lock in all the pieces, cutting protrusions as you go.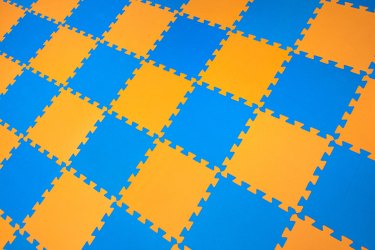 How to Clean and Maintain Rubber Flooring
One of the reasons people choose rubber flooring for areas with high impact in their home is because it's also easy to clean and maintain. Because the material is water resistant, slip resistant and resistant to all other kinds of elements that generally damage floors, rubber flooring can handle any type of cleaning materials and tools.
According to BuildDirect, you can vacuum, mop and even wet-vac rubber floors using mild detergent. Clean regularly — if not daily, then a few times a week. If there is a spill, clean it up immediately. Even though rubber floors can handle what other flooring types can't, dirt buildup can take away its shine and also add pollutants to the room. When people run and walk on the floor, they can kick this dust into the room.
In terms of regular maintenance, you can get your rubber floor sealed to keep its shine, but it is not necessary. Stay away from using cleaners that have a lot of chemicals and/or are highly acidic, as it can erode the surface after a while.
Although rubber flooring has many uses, one of the reasons people tend to stay away from it in residential settings is because it is rather expensive compared to other types of flooring. According to HomeAdvisor, rubber flooring can cost between $800 and $2,300 on average, and rubber tile flooring costs $10 per square foot on average. However, remember that there are other types of rubber flooring, which can make the costs highly variable. All in all, the long-term sustainability of rubber flooring means you won't have to spend a lot to maintain or replace it.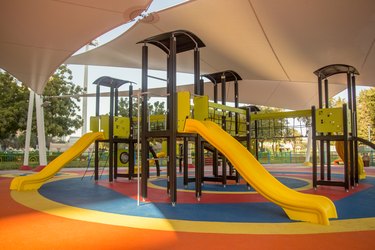 Other Considerations for Rubber Flooring
When choosing rubber flooring, a good place to start is by thinking about what you'd like to see in your home and what you need. To help start your search, use a checklist with considerations such as:
Thickness
Styles available
Durability
Costs
Area where it will be used
To start, rubber flooring can range in thickness from 1/4 inch to 1 inch (even going up to 5 inches in some cases), with 1/4 inch being ideal for basic home gyms and exercise rooms and 1 inch being ideal for extreme weight rooms or a residential playground. This is important to keep in mind if safety is a concern for you.
You can then think about durability and whether or not natural rubber or synthetic rubber is what you'd like, along with taking your budget into account and whether a particular tile comes in styles and colors that you want. Rubber flooring may not be as common in homes, but it is becoming more popular because of its strength.