The Hoover FloorMate takes over where traditional dry vacuum cleaners leave off. The FloorMate operates in both wet and dry modes and tackles dirt and debris in hard-to-reach places on hardwood, vinyl and tile floors. The FloorMate isn't intended for use on carpets or rugs.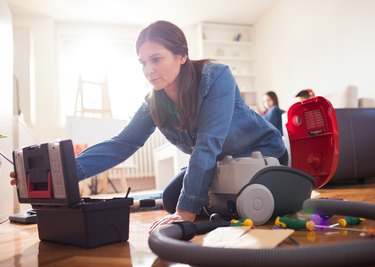 Hoover FloorMate Instructions
You can use your Hoover FloorMate like a traditional vacuum cleaner, but it can also dispense solution for deeper cleaning. At the base of the appliance, there's a pedal to change the FloorMate from dry to wet cleaning. Simply press it to switch between the two modes. Next to the pedal is an indicator light that denotes which mode the FloorMate is in at the time of use.
Make sure to fill your FloorMate with cleaning solution before attempting to wash your floor. When the FloorMate is in wet-clean mode, the cleaning solution dispenses on the floor and the appliance's brushes lower to scrub the solution into it. After washing the floor, switch the FloorMate into dry-clean mode to lift the brushes and dry the area. Empty the tank as necessary after cleaning.
Troubleshooting Your Hoover FloorMate
Occasionally, you may experience problems operating your appliance. The Hoover FloorMate owner's manual includes fixes for the following issues:
• If your Hoover FloorMate doesn't power up, make sure it's plugged all the way into the wall and check its fuses.
• For low suction issues, empty the FloorMate's recovery tank, which may be too full. Make sure the appliance's parts are in correct position for use and clean the FloorMate's filter periodically.
• If water puddles behind your FloorMate, make sure the cleaning solution tank is in the correct position and remember to use only the recommended detergents for the appliance.
• If the FloorMate doesn't pick up the cleaning solution after use, make sure the machine is in dry mode and the FloorMate's parts are in proper position. Empty the tank as necessary after use.
• Cleaning solution should dispense easily from your FloorMate. If it doesn't, make sure the solution tank is full before placing the appliance in wet-clean mode. Refill the tank as needed.
• If the FloorMate's brushes don't rotate or lower, make sure the machine is in wet-clean mode. If it is and they still aren't turning, you can reset the FloorMate's circuit breaker. Make sure the appliance is unplugged and turn its ON/OFF switch to "off." Wait one minute before plugging the FloorMate in and powering it up. Also, manually clean the brushes to remove debris.
For additional instructions on operating and troubleshooting your FloorMate, consult the Hoover FloorMate owner's manual.
Ordering Hoover FloorMate Replacement Parts
To order Hoover FloorMate hard floor cleaner replacement parts, contact Hoover.com or call customer service at 1-800-944-9200. If you know the model number of your Hoover FloorMate, make sure to include it in your replacement parts request.