A steam cleaner is a treasure to own whether you have carpets or laminate or hardwood floors. The Hoover SpinScrub can convert from lifting dirt and debris from deep inside carpeting to gently brushing out grease stains or liquid spills on upholstered furniture. When the durable machine presents a problem after reliably removing dirt and grime from the floors of your home, it may just need a quick repair to set it back on its usual cleaning course. Hoover carpet cleaner troubleshooting tips and tricks are plentiful and are fairly easy to complete. Following the steps for troubleshooting can get the reliable machine up and running faster than a stain can set.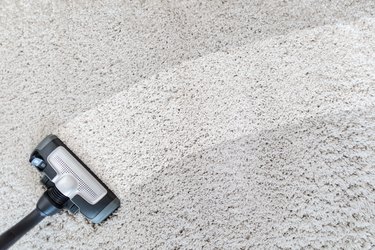 Hoover SpinScrub Basics
The Hoover SpinScrub SteamVac is excellent at eliminating stubborn stains. It has a host of powerful, removable brushes to tackle many types of stains. The multidirectional brushes groom carpet fibers from all angles to surround each strand and lift the gray from dirt and grime away from the surface, leaving the carpet plush and clean. One of the top features of the Hoover SpinScrub is its CleanSurge Control design, which makes it easy to add extra detergent during the cleaning process to get a deeper clean in hard-hit areas, such as by doors or in kitchens.
The dual tanks separate clean and dirty water to cut down on spills when filling, emptying or rinsing. Heat-activated drying sucks extra water from the fibers of the carpet so it's not soaking in residual detergent or water and is ready for company to trounce on in less time than standard carpet cleaners. The tool mode allows the machine to be paused when traversing from thick carpet to the delicate surface of hardwood flooring so they won't get damaged.
Gather Tools for Troubleshooting
While it works wonders on many surfaces in the home, the machine can have minor issues if it isn't properly maintained, particularly with heavy use. Hoover SpinScrub 50 troubleshooting isn't difficult to do with the proper understanding of the machine and a few good tools, such as a screwdriver, bucket, cleaning cloths, toothbrush or other narrow cleaning tool as well as a mild cleaning solution of vinegar and water.
Hoover Carpet Cleaner Troubleshooting
Generally, Hoover carpet cleaning troubleshooting involves getting down and dirty with the machine. Often, the culprit of a low-performing machine is a maintenance issue. If the machine simply won't start and just clicks when it is plugged in and turned on, it could be that the automatic shut off has been inadvertently activated. Turn the cleaner off and unplug the machine. Check the recovery tank and empty it if it is full. Tighten the filter lid if it is askew. If the filter is clogged with dirt or is heavy with hair and debris, change it out. Make sure the filter and its lid are properly returned to the machine and fitted correctly.
Hoover SteamVac Problems with Suction
The Hoover SteamVac problems with suction tend to involve the tanks, nozzles and brushes. While checking the machine for errant part placement, check the position of the brushes and nozzles. These can get bent and affect the performance of the Hoover SpinScrub when in regular use. Both the solution and recovery tanks should be locked in position. If not, the machine may not start or there may be no suction or low suction issues.
---
Kimberley McGee is an award-winning journalist with 20+ years of experience writing for a variety of clients, including The New York Times, Las Vegas Review-Journal Home section and other national publications. As a professional writer she has researched, interviewed sources and written about home improvement, interior design and related business trends. She earned a B.A. in Journalism from the University of Nevada, Las Vegas. Her full bio and clips can be viewed at www.vegaswriter.com.
View Work