A dishwasher is one of the kitchen's most convenient appliances and usually fairly easy to fit into an older kitchen's layout. There are two basic dishwasher sizes: standard and tall tub. Which one you choose depends on your kitchen layout, the height of your work counter and the size of your budget.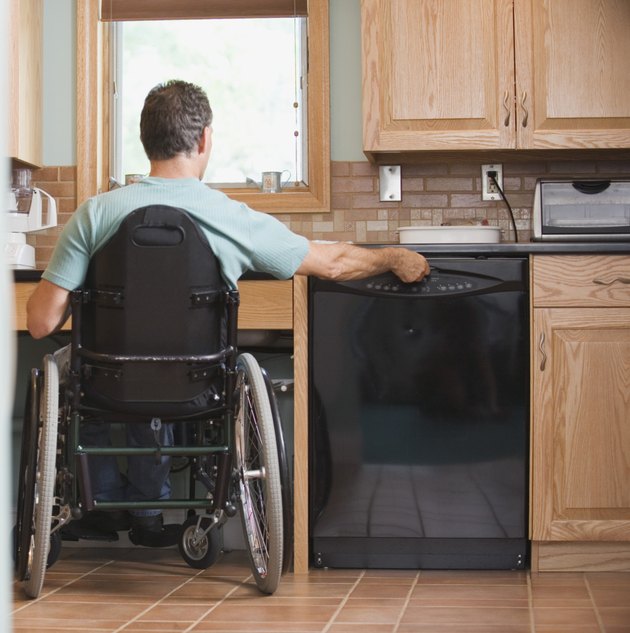 The basic difference between the two dishwasher types lies in the interior design. Conventional dishwashers have two washing racks, each served by a set of water jets, and a bottom reservoir. Tall tubs stream water through a different arrangement, and they either shrink or eliminate the bottom reservoir altogether. The result is a taller machine, more interior space to handle bigger loads and larger individual items, and, in some models, the addition of a third rack.
Standard dishwashers are 24 inches in width and fit into a space underneath the work counter at least 34 inches wide. A kickplate running beneath the door of the machine allows access to the mechanical works and makes for easier repairs. Tall-tub dishwashers do not fit the conventional dishwasher space and have a solid front door with no kickplate. The solid front door of a tall tub dampens the sound level when the machine is operating.
With the taller dimension, the tall-tub dishwasher can be more difficult to fit underneath a conventional or older kitchen counter. Installation and maintenance costs can be higher with a tall-tub design. Many tall tubs are installed in new homes, where counters are matched to appliances and the kitchen design deliberately accommodates them.
The advantage of a tall-tub dishwasher lies in the more spacious design of the "tub" or interior. More space allows you to wash larger plates, sizable cookware and tall wineglasses, which must be pitched downward in conventional dishwashers and sometimes cannot be fitted into the latter at all.
Tall-tub dishwashers are typically more expensive than conventional dishwashers. The larger capacity incurs higher manufacturing costs; tall tubs also include newer control features such as adaptive wash systems, which change water settings according to how full the dishwasher is, and express cycles that can be used when only a few items are to be washed.