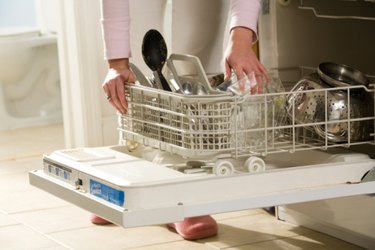 Manufactured by the Whirlpool Corporation and sold in Sears department stores, the Kenmore Ultra Wash is an energy-efficient, large capacity dishwasher with six cycle options. Ultra Wash dishwashers use Kenmore's Quiet Guard 2 technology to minimize noise, making the operation of your appliance as quiet as possible. Continually flashing lights on your dishwasher indicate that the control panel needs to be reset, and may signal a problem with the control panel circuit board. Before calling Kenmore or Sears to schedule a service appointment, try resetting the control panel yourself with these simple steps.
Step 1
Unlock the dishwasher control panel before resetting it. Locate the "Heated Dry" button on the control panel; hold down the button for four seconds to unlock the panel.
Step 2
Press the following sequence of control panel buttons in quick succession: "Heated Dry," "Normal Wash," "Heated Dry" and "Normal Wash."
Step 3
Allow the dishwasher to perform a brief diagnostic test.
Step 4
Wait until the dishwasher has finished its diagnostic test, then press the "Cancel/Drain" button; this will reset the dishwasher's control panel.