Washing dishes is a chore many people don't enjoy, so having a dishwasher is often considered a necessity. Unfortunately, standard dishwashers don't always clean dishes that have large particles of food on them. That means you have to pre-wash the dishes before you put them in the machine. This is a hassle and seems to defeat the purpose of having a dishwasher. However, many dishwasher brands have started integrating food grinders or disposers in their systems which eliminate this problem and save you time and energy.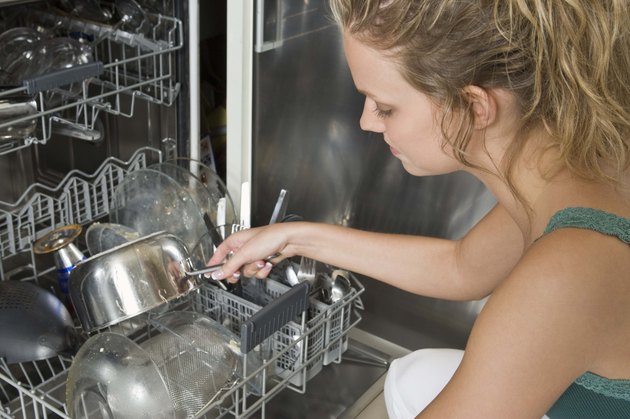 credit:
Jupiterimages/Goodshoot/Getty Images
Maytag Fully Integrated Built-in Dishwasher (Model #MDB8959AWS)
This top-of-the-line Maytag has a 4-blade hard-food disposer along with a JetClean Plus wash system with Precision Clean turbidity sensor that automatically adjusts the wash cycle depending on the food soil levels, detergent, rinse-aid concentrations, and water temperature. It also offers a Sanitize wash system which eliminates 99.99% of bacteria. The machine has extra thick sound barriers and Maytag's Seal of Silence which keeps noise levels to a whisper. The dishwasher holds 14 place settings and is Energy Star qualified, which means that it is government certified as being energy efficient and better for the environment.
LG 24-inch Built-In Dishwasher (Model #LDS4821WW)
This higher end LG dishwasher has a stainless steel food disposer, a stainless steel tub, three wash options, and can hold 16 place settings. It is Energy Star compliant. The dishwasher is a great choice if you are looking for a quiet dishwasher, as it has sound-damping materials in the machine, as well as an extra quiet motor to keep the sound to a minimum even when the food grinder is in use.
GE 24-inch Built-In Dishwasher (Model #GLD4900PBB)
This GE dishwasher is a mid-priced model that holds 16 place settings and offers four wash cycles and five options. The Piranha hard-food disposer grinds up and eliminates any leftover food particles on your dishes, including large chunks, and the six-level BrilliantClean towerless wash system washes it all away. Its QuietPower 3 system is engineered to keep noise levels very low.
Amana Tall Tub Dishwasher (Model #ADB1500AWW)
This budget dishwasher with a stainless steel food grinding system has three wash cycles and holds 14 place settings. It is Energy Star rated and uses 25 percent less energy than the federal minimum standards. They dishwasher has extra sound absorbers to help control the noise. And for those of you who prefer the dishwasher run at a later time, there is a convenient delay start feature that lets you choose a 2, 4, or, 6-hour delay.