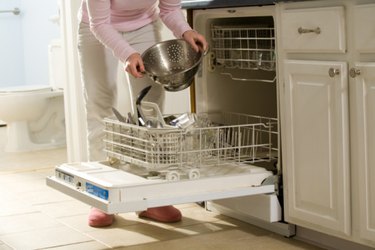 A Whirlpool dishwasher, like any complex appliance, relies on electronics to control the various cycles required to wash dishes and glassware. A sudden power surge or an electrical outage can cause the control panel board on the dishwasher to cease functioning -- requiring a reset of the electronics. The procedure is straightforward, similar to that for other dishwashers that are functionally similar to the Whirlpool and does not require any tools whatsoever. No warranty that is in place will be violated.
Step 1
Press the "Off" button on the Whirlpool dishwasher. Nothing will appear to have happened since the lights on the control board will not be illuminated.
Step 2
Unplug the dishwasher's power cord from the AC outlet. This usually involves removing the two screws from the panel beneath the dishwasher with a Phillips screwdriver, removing the panel and reaching in to pull the plug.
Step 3
Let 10 to 15 minutes pass. Plug the dishwasher's power cord back into the AC outlet. Close the panel and reattach the screws.
Step 4
Select "High" or "Pots & Pans" from the control panel board. The actual setting will depend upon the make but is the highest setting you can choose for the washing cycle. Select one of the "Heat" cycles for drying the contents of the dishwasher.
Step 5
Let a minute pass. Repeat the procedure with selecting the two cycles. This resets the control panel board so that you will again be able to use the dishwasher.