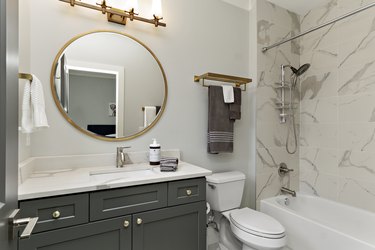 If your home contains a laundry room in an inconvenient location or if you'd prefer to have a bathroom in that spot, you might be considering converting the laundry room to a bathroom. Not only does this add convenience to your living space, but it may also increase the value of your home if you decide to sell. There are some basic plumbing and electrical tasks required of such a project that you should not undertake unless you have substantial background in these areas.
Important Renovation Considerations
Laundry rooms have special outlets for washers and dryers, but you won't need these in your new bathroom. It's best to consult with a professional electrician about swapping these outlets out for standard GFCI outlets for your bathroom. Note that outlets and switches should be located safely away from your shower or bath. This distance may vary based on the specific building code regulations where you live, but an electrician will be able to advise you.
Plumbing will need to be changed if you're creating a bathroom where a laundry room once was. Your old washer would have needed a hot and cold source pipe and a discharge pipe. Your new bathroom will need these source pipes, but you'll need to extend them to source your sink, shower and toilet. In addition, you'll need discharge pipes from all of these fixtures as well.
If you're familiar with plumbing, it's possible to undertake these tasks yourself. However, and especially if you'll also be making changes to the electrical setup of the space, it's advisable to get help from a professional plumber before proceeding. Your plumber and electrician can also advise you as to whether you need a building permit for your project in your specific municipality. If you do, be sure to arrange it before you begin construction.
Planning a Laundry Room Renovation
The first step in planning how to convert your laundry room to a bathroom is to design the new space. Draw a floor plan of the room and identify where you'll place your sink, toilet and shower or tub. Plan your cabinet and storage space too. Will you add a large vanity with drawers and cupboard space beneath your sink or use an over-the-commode towel rack?
Once you've designed the bathroom, find fixtures that will fit both the aesthetic you're seeking as well as the space you have available. Remove the washer and dryer from the space. Seek help from your plumber and electrician here to make the swaps you require. Then, you can hire contractors to install your fixtures or install them yourself.
Proper waterproofing is a major concern in a bathroom. Custom Building Products explains that you can use liquid or sheet membranes behind your shower walls, especially if it's a tiled unit, to ensure it's waterproof. You'll also need to properly waterproof the subfloor of your bathroom if you're updating it during your renovation — how you do this will vary depending on the type of flooring you select, so read the manufacturer's instructions for the flooring you choose before you install it.
Additional Bathroom Renovation Considerations
When designing your new bathroom, placing toilets near existing drains to the septic pipe is ideal. The less pipe you need to add to the system, the simpler and cheaper the project will be. You'll also need to add a supply line to the toilet, but only cold so that the toilet can flush and fill. Again, a skilled plumber can help you determine how to lay out the pipes before you get started — Better Homes & Gardens reminds you to be sure to install your drain and vent lines before you install your supply lines.
Adding additional lighting may be beneficial to your new bathroom. You may wish to have an overhead light near your shower or tub and additional lighting above the sink or vanity. Your electrician can help you install this. Many lights are simple to install if you have an existing junction box and are familiar with electrical work, but be sure to turn the power off at the breaker before you attempt to make any changes.