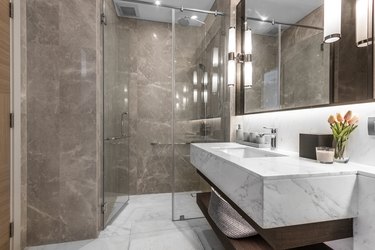 That empty bedroom could be transformed into your dream bathroom — or at least help to prevent arguments over who gets to use the shower first each morning. Adding an extra bathroom is one of the best and often simplest investments you can make and could be a far better use of space than a bedroom that isn't being used. Converting an existing bedroom to a bathroom should also be much cheaper than adding space.
Tip
How much it will cost to convert a bedroom to a bathroom depends on whether you opt for a full, three-quarter or half bath, how much plumbing is required, and the types of fixtures and finishes you choose.
Adding a bathroom to an existing space — with no need to remove or add walls, windows or doors — typically costs from 40 to 60 percent less than adding on space, according to HomeAdvisor.
A bedroom can provide the perfect bare bones for your project since it will usually have fewer complications than, say, a kitchen that needs appliance removal. A too-small bedroom could be converted into a half bath or shower room, while a larger bedroom could become the spacious bathroom you've always wanted.
Cost: Bedroom to Full Bathroom
A full bathroom with bath, shower, toilet and sink vanity unit costs from $5,000 to $35,000 — or $15,000 on average. That equals $125 to $250 per square foot.
Where your project falls on the scale will largely come down to the components you choose, from the choice of bathtub to the tiles. Whether you go for a separate shower or a shower over the bath will also affect the overall cost. Adding a stand-alone shower costs from $1,500 to $6,800.
Converting a bedroom into a bathroom with pricey fixtures and features — for example, a free-standing, deep-soak or spa bath or a high-quality finish with expensive tiles — could cost from $75,000 to $90,000. A bathtub can cost from $1,100 to $5,900 with installation.
Plumbing costs will otherwise make up the bulk of the cost and can range from $1,000 to $10,000. These will be on the lower side if existing plumbing is nearby or already in place (if the bedroom was a bathroom in the past).
Cost: Bedroom to Half Bath
That tiny bedroom that never really quite worked as a home office could be a handy extra half bath for guests. A half bath with sink and toilet, but no bathtub or shower, will cost significantly less than a full bathroom finished to the same specifications. Expect to spend from $5,000 to $15,000.
Cost: Bedroom to Shower Room
A smaller bedroom could also be transformed into a shower room that accommodates guests, creating options that minimize lining up at the door.
Installing a shower can cost from $1,500 to $6,800, with cost increasing for tiling, flooring and a glass door. Add around $900 to $1,700 for a shower room that also squeezes in a sink, vanity unit and toilet.
The most obvious factor affecting cost is the size of the space. A smaller bedroom will require less work and less money for tiles and flooring.
The level of luxury at every stage in the conversion could affect costs dramatically. But the biggest factors could be practical considerations such as the location of waste and soil pipes and hot and cold water supplies in the house. Installing a bathroom that's adjacent to, or even above, an existing bathroom or shower room could cut costs by making it simpler for the necessary services to be diverted to your new bathroom.
The existing floor could also affect costs. Carpets can be easily ripped up to access floorboards and joists for running pipes through, but removing a concrete or tiled floor requires more work.
Check permits too. You may need permission from your local authority when adding a bathroom where there previously hasn't been one, which could either add to costs or cause costly problems if ignored.
DIY Options for Converting
You could significantly reduce costs by taking on some or all of the work yourself, although the installation of fixtures is best left to professional plumbers and fitters.
If you can work around the schedules of the tradespeople you book, you could save a significant amount by taking on jobs such as painting, tiling and removing wallpaper with a wallpaper stripper.