A Swiffer WetJet is an alternative to the old mop and bucket. Instead of filling up a bucket and using the same mop that has been used on dirty floors before, you can use a fresh pad each time with a Swiffer WetJet. You must use the Swiffer the proper way for best results.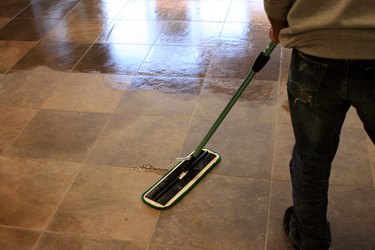 How to Replace the Battery
The Swiffer WetJet comes in various styles, but the battery is easy to assemble in each one. First, remove the cleaner by turning it up on the mop. Next, push the large white button found in the middle of the cleaner. The bottle of cleaner will release once you push that button. Now, pull down to remove the cleaner.
There will be a finger notch on the battery compartment. You should be able to pull it down easily. Gently open the battery compartment and remove it from the handle of your Swiffer. Try putting your finger between the opening and pull down, and the compartment should open right up. Try not to use any other objects to pry it open.
Remove the batteries and replace them with new ones. Be sure to do this in the light so you can see which way the batteries should go. Once you place the batteries, shut the compartment back.
How to Replace Swiffer Pads
Each time you're finished cleaning your floor, you will need to take off the dirty pad. The following time, you start with a fresh pad. You will see where you will need to secure the edges of your pad into the back and front grips on the Swiffer itself.
A Couple Considerations
You can use the Swiffer WetJet on just about any floor type. Whether you have ceramic tile, laminate, wood or marble, you can reap the benefits of this mop.
By pushing the button for the dual nozzle for the premixed cleaning solution to spray on the floor, you can get through sticky messes, dirt and grime.
Another thing to keep in mind is before you use your Swiffer, either vacuum or use the Swiffer Dry or Swiffer Sweep and Trap so you can pick up any lingering dust or pet hair. It will help clean your floor thoroughly. You won't have to worry about filling up your pad faster when you cut down on the hair and dust first. Not to mention, without vacuuming or picking up the hair first, you could potentially be pushing it around with the WetJet.