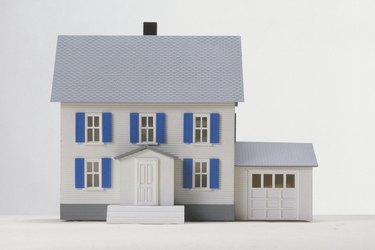 A split-level home is a variation of the typical ranch-style house, but the split-level home makes better use of available space. Another reason that split-level homes are desired by some homeowners is because they separate living space from sleeping space, which offers more privacy for the occupants. If a new homeowner is building a home on hilly or uneven ground, a split-level home may be the best choice of home styles.
Standard Split Level
The standard split-level home has the entry at ground level and then short sets of stairs leading to the other levels. This type of split-level home can have two or more levels. A typical layout would have the main living areas such as the kitchen, dining room and living room on the middle level. The top level is where all of the bedrooms and bathrooms are located. The bottom level has informal living areas such as dens, recreation rooms and maybe even the garage.
Split Foyer
A split-foyer home has two sets of stairs and two levels. The front door is at ground level and is located between the two floors. This layout makes it so that when front door is entered there is a landing with a set of stairs going up and a set going down. The top floor has taller ceilings and contains the kitchen, living room, dining room, bedrooms and bathrooms. The lower floor has lower ceilings and is partially below ground level. The rooms on the lower level are ususally dens, recreation rooms, garages and other informal living areas.
Stacked Split Level
The stacked split level can have four or five floors and as many sets of stairs. Again, the entry is at ground level and between floors. Generally, the first set of stairs off the entryway leads up to a kitchen or dining room. There are stairs off this room that lead to bedrooms that are stacked above the foyer. The first set of stairs leading down go to the basement or some other informal living area. Many townhomes use this type of construction.
Split Entry
The split-entry style features three or four floors and as many sets of stairs. The entry is between floors. The front door opens onto a foyer or entry area that is in a wing separate from the main house. Again, the entry has sets of stairs leading up to the main floor and another set leading down to the lower level. From the exterior, this type of home looks like a tri-level home when in actuality it is a bi-level with a separate wing for the entrance.