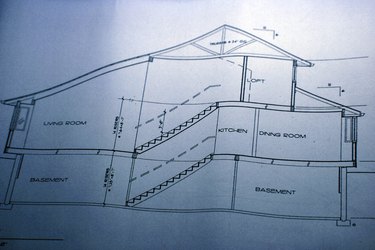 Choosing the right floor plan for your new home requires much thought and consideration. One important factor in your floor plan and lot choice is the potential for a basement, which can offer additional storage and living space, and can be finished or unfinished. Many people opt for a walk-out basement--which includes a door that leads directly outside--but these basements can have advantages and disadvantages.
Pro: Added space
A walk-out basement adds square footage to your home, giving you additional space for bedrooms, bathrooms, living areas or even a mother-in-law suite. Creating an apartment in a walk-out basement allows you to potentially rent a portion of your home to someone for a little extra income without having to share the same entrance. When completely finished, a walk-out basement provides one of the most affordable ways to gain square footage in your home. Because finished walk-out basements can be considered part of your home's livable square footage, it can add to your home's value.
Pro: Additional Lighting
Compared to standard underground basements, walk-out basements can feel more like the rest of your home, because at least a portion of the space is lit with natural light. When one side of the basement has windows and doors and the other side is well-lit with artificial lighting, you may not even be able to tell that the whole space is a basement.
Cons
The main disadvantage to a walk-out basement is the added cost, because your contractor must excavate the land differently than if your home sits on an underground basement. Like all basements, the walls of your walk-out basement will still be susceptible to moisture and containment issues, even though a portion of it is open to the outside. Adding square footage to your home can raise the home's value, but it may also raise your property taxes. If you don't plan to sell, the additional value won't affect you financially, but the increased taxes will.
Other Factors
Walk-out basements aren't an option in all homes. If you're building a new home, a walk-out basement is most feasible on properties in which the land slopes down toward the back of the house. Underground basements can't be considered additional living space and added to the square footage of your house because codes require living spaces to include a place to exit and enter in case of an emergency. If you decide to add a bedroom to your walk-out basement, the bedroom itself must have access to the outdoors.