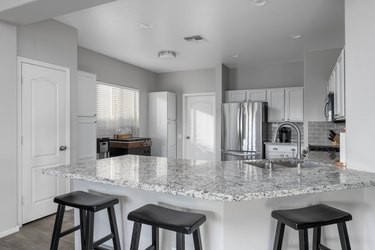 If you have familiarity with home renovation projects, you're likely familiar with the concept of a gut renovation. A gut renovation means that everything in the kitchen is taken out and fully replaced, from the lighting to the appliances, to the floor and the cabinetry. Many people who have never done home improvement projects before may be daunted by the idea of a gut renovation, but if you're interested in trying the project yourself, there are several things to learn.
What is Gutting a Kitchen?
Gutting a kitchen sounds a lot more violent than it is. Gutting simply refers to removing everything that was built into the kitchen in order to remodel and reshape the interior of the kitchen. This includes removing the cabinetry, appliances and often even the location of major plumbing-related appliances like sinks and disposals.
A kitchen remodel is a big deal. It's not something you should jump into without a lot of thought. Because of the appliances involved and the many utilities that are related to a kitchen remodel, it's not something to be approached lightly. Most people who need to use their kitchen for the majority of the time that they're renovating do their kitchen remodel in stages.
For most people, the kitchen is the heart of the home. It's where family members gather, it's where meals and snacks and talking and cooking all happen, so when it's out of commission, it can be stressful. Some people find themselves in the enviable position of performing their kitchen remodel before they move into their house, which means a lot less stress while eliminating the distractions of having contractors in the house.
How Do You Plan a Kitchen Remodel?
When people have chosen to do a gut renovation of their kitchen themselves, the big question is where to start. Most people agree that regardless of whether you're living in the house yet or not, there's a correct order of stages for a kitchen remodel. Gutting a kitchen is a big job, and you want to be sure that you take every step to ensure that the process goes as smoothly as possible.
The first stage of a kitchen remodel involves starting with a complete and comprehensive design plan. Resist the urge to add space or square footage to make your kitchen bigger. This will be costly. Instead, figure out how to fulfill your needs and wants within the space you already have.
In What Order Do You Remodel a Kitchen?
Once you've settled on a design plan, the following steps should be carried out in this order: Remove all cabinetry by unscrewing the doors and taking them off the hinges, then unscrew the cabinets themselves and take them off the wall. Then, shut the power off and disconnect and remove any appliances and wired lighting fixtures.
Once all appliances have been removed, you can examine the plumbing to see if any of it needs to be replaced. If it's older and galvanized, the answer is likely yes. Next, consider your wiring. Make sure it's all up to code and consider upgrading your circuit breaker. If you don't have electrical experience, consider hiring a contractor for this portion of the remodel.
When plumbing and electrical work have been taken care of, it's time to hang the drywall. This is something that you may elect to outsource. Once the drywall is hung, paint the walls and ceiling. Then, install the floor and the baseboards, the kitchen countertops and the cabinets. Finally, call in an electrician to install your appliances.
What Should You Consider Before Your Kitchen Remodel?
Think seriously and realistically about the uses you have for your kitchen and the amount of work and cooking that you'll do in there. Kitchen remodels can be expensive, and it's easy to get distracted by pictures of high-end appliances that look glamorous but you might not use.
With that in mind, think honestly about your life and your lifestyle. Don't get an enormous refrigerator if you have a household of two people. Don't get a restaurant-grade stove if you rarely cook. Don't bother with a wine fridge if you know you can keep beverages in the refrigerator.
On the other hand, if you do a lot of cooking, you'll need to make sure you ventilate your kitchen appropriately. When you renovate and get a new stove, particularly if it's a high-grade piece of equipment, it's best to overcompensate in terms of ventilation. Make sure that the exhaust is easily filtered outside by installing the stove on an outside wall so you won't have to run a long exhaust line.
What Kind of Countertops Are Best in a Kitchen?
There's a lot of debate about the best countertops for a kitchen. Formica countertops are easy to maintain, but they can easily crack and give a kitchen a cheap overall look. For this reason, stone countertops are very popular, but they present their own sorts of problems.
Marble is very high end, but it yellows and is difficult to maintain. It also chips easily. Granite is a popular choice in terms of its durability and upkeep, but it should be sealed every six months or so. Soapstone, like marble, chips very easily and requires constant maintenance.
Quartz is a good option for countertops. It's more expensive but significantly stronger and might be the right choice if you're choosing to invest in your remodel. Concrete countertops are another popular choice, particularly for residences that are going for a modern or industrial look. These need to be sealed and can be difficult to maintain, so take that into consideration.
How Do I Choose Cabinets for My Kitchen?
While it may seem like custom-made cabinetry is the best solution, prefabricated cabinetry has several advantages. For one thing, it's significantly cheaper. It'll also likely be available quicker than anything custom made.
The wood used in prefabricated cabinetry is also significantly more durable than natural wood. The joints are cut by a machine, so the building of the cabinets is significantly more precise than what can be accomplished by hand. This makes installation much easier and something that you can do by yourself versus hiring the same carpenters who made the cabinets.
In terms of style, spend some time thinking about your kitchen's overall aesthetic and what you want it to feel like. Don't get caught up in trendy looks or glamorous interiors that don't fit with your lifestyle. Instead, choose simple cabinetry that will provide a backdrop to showcase the cleanliness and beauty of the space, not distract from it.