Designing and installing a soffit box above kitchen cabinets gives the kitchen a professionally finished look. Adding drywall over framing is one of the most cost-effective ways to complete the job. In fact, you can use small leftover sections of drywall from other projects to cover the bulkheads, which is another name for soffits. Construct the framing with smooth surfaces and squared-off corners, so the drywall covering will fit expertly. Be sure to miter corners and take extra care in preparing framework boards -- especially at corners and edges -- to obtain this well-crafted outcome.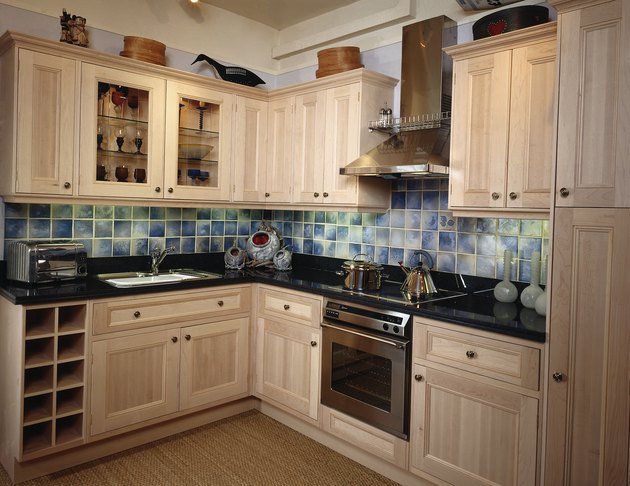 credit:
Hemera Technologies/Photos.com/Getty Images
Step 1
Use a carpenter's sliding ruler to measure the enclosure space for each bulkhead. Draw the exact dimensions for each soffit box on graph paper over cabinets. Get the length, width and height defined to within 1/8 inch, if possible. Build the framework the exact dimensions you need to allow for the extra thickness of 5/8-inch drywall covering. Plan the framework to accommodate drywall flush with cabinets, or build the framework with a lip extending over cabinets, if you desire.
Step 2
Select 2-by-4-inch boards that are smooth and straight. Don't used warped or curved boards. Cut boards with a circular saw to construct the framework with short studs on 16-inch centers across the front of the box. Use 4-inch screws to attach the studs to a top plate and bottom plate. Miter all outer corners of framing boards with a miter box saw, so that this smooth underlayment will support drywall or other covering with edges that are sharp and square.
Step 3
Lift the framework box into place over cabinets. Screw the bulkhead framing to wall studs and ceiling rafters, so the house framing holds all the framework weight. Check with a carpenter's level to make sure the framework unit is level and squared up for drywall, bead board or wood veneer covering. Use shims of wood, if needed, to make adjustments.
Step 4
Nail covering, such as 5/8-inch drywall, into place over the framing. Sharply cut each section of the drywall to avoid gaps. Finish the drywall with joint tape and joint compound, just as you would finish drywall on any other wall space. Cut bead board or veneer with a smooth bottom edge next to cabinets -- which may or may not require trim to cover any raw edges.
Step 5
Paint or stain the unit, and finish up details. Nail up crown molding and trim, followed by any special details you will add to the bulkhead -- such as bolts or hardware for hanging artwork or painted tiles. Paint the drywall or stain the veneer sheeting as needed. Paint or stain crown molding before you nail it in place.