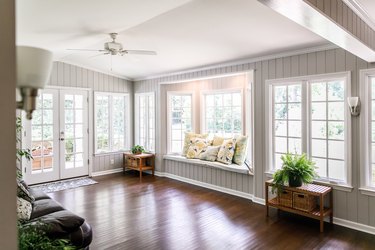 Well-designed built-ins are often favorite features in old houses because of their charm and matter-of-fact utility. In a newer or older home, window seats, in particular, bring up memories of waiting out weekend rains and curling up with a good book. The height of a window seat — or window bench — is an important factor in designing your project.
Different Uses of Window Seats
Window seats are designed for many purposes and in many sizes and shapes. A window seat can make use of a wasted space between two bookcases or can provide a place to curl up with a good book. A large window seat can serve as a daybed. A seat or a long bench can add seating in a family dining space or in a living room or den for large gatherings. Window seats also can be used for hidden storage.
Comfortable or standard chair height is about 17 inches. If your seat or bench is intended for comfortable sitting with feet on the floor, it will need to be standard chair height. A bench in a child's bedroom or playroom can be lower to accommodate smaller legs. Benches intended to serve as daybeds or cozy curling-up spots can be as high as you like. You're limited only by your needs and imagination, as well as the height of the window itself. A 10- to 20-inch-high bench back with or without cushions provides a finished look, further comfort and fills any wall space between the seat and window.
If you intend to install or use a seat cushion, you need to lower the height of the bench to achieve the desired seating height. Regular 2-inch cushions compress to 1 inch, so you can leave bench height the same or reduce it by an inch, according to your preference. Firmer, higher quality cushions compress less, so reduce bench height accordingly. If using a firm 4-inch cushion, for instance, reduce the height by about 3 inches.
Cushion Source advises that window seat cushions can be as much as 8 inches thick, and such thick cushions are bound to compress more than 1 inch. It's best to reduce the height of the window seat by only 5 or 6 inches instead of 7. This may make the seat is a little higher than the design intended if the cushion is extraordinarily firm, but it's better than sinking almost to the floor when you sit down.
A window seat can be as simple as a trimmed-out plywood board on a frame, spanning two built-in bookcases, or as sophisticated as shop-built cabinetry installed by a carpenter. It doesn't have to be built-in. A simple padded bench painted the color of your woodwork can be moved from room to room as you need it. If the bench is to be built-in, remove baseboards from the area and reinstall them on the bench for an integrated appearance. If you can't find matching molding at your home center, you can often find it in closets, behind kitchen appliances or in back hallways.