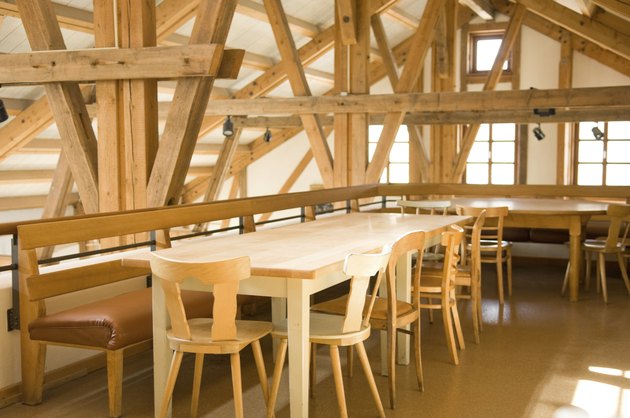 The dining bench is a nostalgic and practical seating alternative to the traditional chair. You'll find dining benches in many styles, from the plain wooden bench to the curved, upholstered banquette. Large families sometimes prefer them to chairs, because three or four young children can scrunch together on a single bench.
No Size Standard
Dining benches vary considerably in depth. A no-frills, Amish-style bench might measure just 12 inches, while an upholstered, built-in dining bench with storage underneath measures a generous 23 inches. Features such as built-in storage require a design with more depth.
Stock Cushions
Standard stock dining bench cushions typically measure 16 inches in depth. You can purchase custom-made cushions in any size you like. Yet, to keep costs down, consider a dining bench depth between 16 and 18 inches, which will accommodate many stock cushions. Back rest cushions require a bench with a deeper seat.
Consider Comfort
Regarding seat depth, The BIFMA states that users should be able to sit in a chair without undue pressure against the backs of their knees. Think about the size of the individuals using the bench. Tall individuals may prefer a deeper bench, while petite individuals will find a narrower depth more comfortable.
---
Jani No Heart began writing in 1990 and has held positions for Monica Scott Clothing and Carmichael-Lynch Advertising in Minneapolis. Most recently she was the creative writer for the website of Swanson Health Products. In 2008 she became certified as a holistic health coach at New York's Institute of Integrative Nutrition.