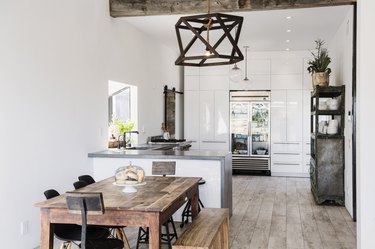 A dining bench can be a great way to open up your dining space, create visual impact and still seat a good number of occupants. Benches come in many configurations, dimensions and styles, so whether you're buying or building your own, it's good to get a sense of the common measurements and how they relate to the dining table and the space around it. Dining benches also allow for extra comfort-based touches like pillows and cushions. As Danetti explains, dining benches are incredibly versatile, making them a great choice.
Tip
The recommended dining bench depth is around 17.5 inches, but bench depth varies dramatically. Ideally, it shouldn't be deeper than 20 inches, which can be uncomfortable for those sitting on the bench.
The first consideration for a bench is the length. This affects both how many people it can seat and how it relates to your table. Bench lengths tend to range between 42 inches and 60 inches, but it's important to consider your entire dining room setup.
A bench can be the full width of your table, or slightly less long, so that it can be tucked underneath the table. Tables vary in length, and the length of the bench will also depend on whether your table is a pedestal style or has legs at every corner. For tables with legs at the corners, allow at least 2 inches of clearance between the edges of the bench and the legs of the table.
You also want 48 inches of clearance around the bench for sliding it in and out and for walking around it to take a seat. In terms of seating capacity, a bench between 42 and 52 inches long can comfortably seat two adults or three children. A 53- to 83-inch bench can seat three adults, and longer benches can accommodate four or more.
Recommended Depth of Dining Benches
The next consideration is the depth of the bench. The depth must account for enough seating area, the back of the bench if it has one and the width of any pillows, cushions or other paddings you plan to put on the bench.
While there is no standard for this, most benches vary between 12 inches deep for narrow benches without storage to 23 inches deep for benches with storage underneath. Most benches fall in the 14- to 17-inch range. Wayfair explains that most benches average 17.5 inches deep.
Keep in mind that you need to be able to sit comfortably on the bench without it digging into the backs of your knees. For this reason, depths beyond 20 inches can be uncomfortable to sit on without a back. Cushions also come in a variety of sizes, starting at 12 inches and going up to 24 inches for those intended for indoor/outdoor use.
The final choice you'll need to make regards the height of the bench. Dining room tables are commonly around 30 inches tall. Standard bench height varies between 18 and 20 inches, measured from the seat to the ground. The seat of the bench should also be about 12 inches lower than the tabletop.
Take into account whether you have petite or tall household members or frequent guests when deciding on the height of the bench. While taller benches will leave petite occupants' feet off the ground, they will also have an easier time seeing over and comfortably using the table. Shorter benches will also leave taller occupants with their knees folded up, potentially bumping the table.
While it's tempting to err on the side of taller benches, remember to make sure your bench gives occupants enough room to comfortably situate their legs between the bench and tabletop. This includes accounting for cushions, pillows and other paddings.
The final touch for ultimate bench comfort is adding padding. There are many styles and sizes of cushions, pillows or padded upholstery to choose from, and it's important to keep in mind that this element of the bench also uses vertical space and must be accounted for when calculating the height relative to both the floor and the tabletop.
However, padding compresses when sat on. Most padding will compress 1 inch from its normal height when in use, so subtract that from the height of the padding when calculating the total height of the bench.