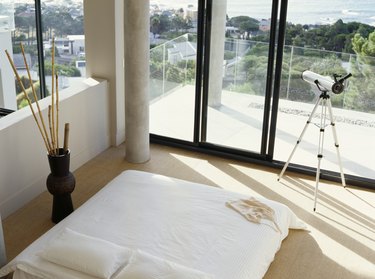 One advantage of downsizing or otherwise living in a small space is that you need much less furniture. A queen bed in a living room, office or guest room can easily serve as a sofa during the day and a comfortable bed at night -- much more comfortable than the thin, creaky mattresses in most built-in sofa beds. Creatively transform your bed into a sofa by working with what you have and adding a few well-selected design features.
Step 1
Push your queen bed up against a wall to create a sofa "back," a surface you can safely lean back against. If you have a sleigh bed or a bed frame with a headboard and foot board, the bed's "top" and "bottom" will serve as the sofa's sides. If your bed has just a headboard – or no visible frame -- arrange the bed so an open end is in a corner and also against a wall, creating another supported side.
Step 2
Cover the mattress -- including all bedding, if you sleep in the bed every night -- with a tailored floor-length bedspread that's fitted at the corners, for a more sofa-like appearance. Choose a fabric color or colors, texture and pattern that will coordinate well with the rest of the room's décor and also seem appropriate for a sofa. Choose a sophisticated tuck-in bedspread if you have a bed frame unsuited for a floor-length spread.
Step 3
Add bolsters or large pillows covered in matching or coordinating fabric to create and soften the sofa's back and to act as arm rests on either one or both sides. Because a queen bed is much wider than a twin and, when configured as a sofa, deeper than a regular sofa's seat area -- 60 inches compared to a twin's 38 inches -- you'll probably need two if not three layers of bolsters to provide suitable back support for seating.
Step 4
Add matching and coordinating throw pillows, and place a coffee table in front of the sofa if space allows. Add nightstands at one or both ends to serve as sofa end tables, or use end tables as nightstands.