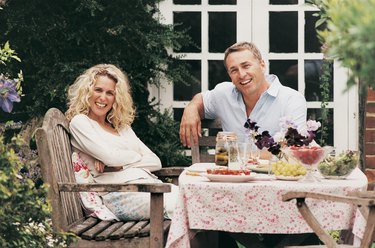 Outdoor benches vary in size, but they typically fall in a small range of dimensions. Finding the right fit for you is key. Determine the exact size of the bench based on your space requirements or what makes you comfortable. Whether the bench is free-standing or built into an existing deck, getting the dimensions right means the bench can be used for more than decoration.
Seat Height
Bench seats tend to sit somewhere around 16 inches high. Depending on what height is comfortable for you, choose from heights between 14 and 19 inches above the ground. The American with Disabilities Act recommends seat heights of 17 to 19 inches for the maximum amount of functionality, making the bench comfortable for people with limited mobility. Some people prefer to slope the seat slightly so the back is 1 inch lower than the front. In this case, measure the seat height from the front, or the highest point of the seat.
Width and Depth
For the seat depth, try to stay close to 16 inches from the front to the back of the seat. Backless benches have a bit more leeway in the depth because people can adjust forward or backward easily. When it comes to the bench's width, there aren't many set guidelines except a starting point. The bench should be at least 51 inches wide if you plan on having two people sit on the bench, but it can be 60 inches or more. Some outdoor benches provide continuous seating, such as benches surrounding a fire pit or connected to the inside of a deck railing, proving that the width is limited only by your imagination -- and the space available in your backyard.
Seat Back
A bench doesn't have to have a back. You might not want backs on some types of benches, such as those you pull up to a patio table. If you want an outdoor bench with a back, the back should extend at least 16 inches above the top of the seat. The backs can be perpendicular to the seat or slightly sloped backward. Keep the slope gentle; about 5 degrees is typically enough for added comfort.
Armrests
Whether backed or backless, benches don't need armrests. ADA recommends armrests for comfort and assistance when you stand up. The armrests should rise about 8 inches above the top of the seat. The width of the arms is a personal choice, but 4 to 5 inches wide usually allows enough room for resting your arm.