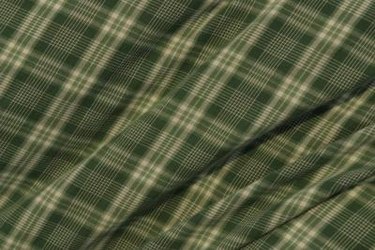 When renting a home, you have to be careful to leave it in the condition you found it. This means major projects, such as applying wallpaper, are typically not feasible. If you want to make a dramatic statement in a room without damaging the walls, try hanging large pieces of fabric. Hanging fabric requires no nails, tape, staples or harsh glues. Also, bed sheets are affordable and available in a variety of different colors and prints for coordination with your decor.
Step 1
Spray the wall with an all-purpose cleaner. Use a sponge to wipe away any scuffs, dirt or stains. Alternatively, vinegar is a cleaning solution that contains no harsh chemicals that can strip paint or damage walls.
Step 2
Lay a drop cloth on the floor. Attach to baseboards with painter's tape.
Step 3
Measure the area you want to cover. If your bed sheet is not the exact size, you will need to cut it to fit your measurements. Before cutting, add 1 inch to the length and width of fabric you need. Cut and fold the fabric under ½ inch at each edge. Press with an iron and the fold over ½ inch again. Press once more before sewing the hem to create a finished edge.
Step 4
Spray the top of the wall where you intend to hang your bed sheet with spray starch. Saturate the wall thoroughly and evenly.
Step 5
Press your bed sheet in place along the top, smoothing with your hand or a plastic spatula to get rid of any air bubbles in the fabric. Spray the top of the fabric with more starch as you go to ensure hold. Temporarily hang the fabric in place with thumbtacks.
Step 6
Work your way down the wall, spraying more starch to the wall and to the top side of the fabric. Allow the starch to dry fully before removing thumbtacks.