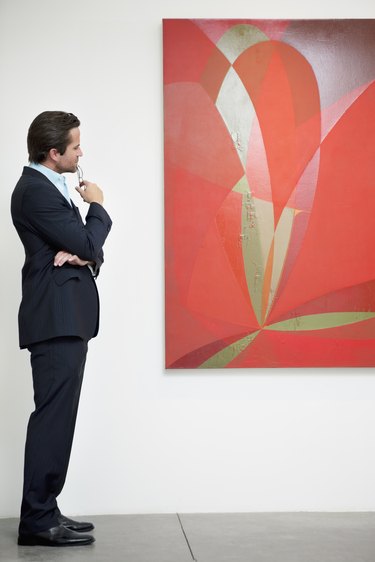 Decorating the walls in your home doesn't have to be a hassle. Quickly put up some wall art by mounting a poster on canvas to create the look of a painting without the price. You can mount any poster using decoupage glue and a sponge brush. All you need is a work space and time to allow the glue to cure.
Step 1
Cut your poster to fit the canvas. You can also just purchase a canvas with dimensions large enough for the poster.
Step 2
Spread a thin layer of the decoupage glue over the surface of the canvas with the sponge brush.
Step 3
Immerse your poster in water for 10 seconds to get it completely wet. A bathtub works nicely for this purpose.
Step 4
Lay the poster over the glue covered canvas. Do this step slowly and carefully to ensure the canvas is parallel with the canvas edges.
Step 5
Use the roller to press the canvas onto the decoupage glue and to push out any air bubbles. Wet the roller surface before you use it. Allow the glue to dry for a couple of hours.
Step 6
Apply two more coats of the decoupage glue on top of the poster and canvas. Allow this top coat to dry for 24 hours before hanging the poster.