Deer antler chandeliers are the perfect way for any hunting enthusiast to decorate their home so that it reflects an important hobby in their life. They're also great for anyone who wants to give their home a more rustic, cabin-in-the-woods inspired look.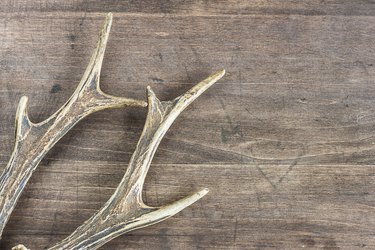 Paying for an antler chandelier can be a bit pricey, so one way to truly customize the feel of your home would be to gather the right materials and make your own. Crafting your own chandelier out of deer antlers can feel a little intimidating, but it can be a breeze when you follow the steps.
The Materials
Gather several large deer antlers. If you are not a hunter, you can buy real or faux antlers online to use for this project. Just make sure the faux ones are made of sturdy material and that they're hollow so that wire can go through them. Buy a basic chandelier kit from a home improvement or hardware store or use an old plain chandelier that you'd like to spruce up.
If you don't just want to use the framing of the chandeliers, you can strip them and just use the wires and the main center stem to form a chandelier made almost entirely out of the antlers. You will also need thin wire, long screws, a drill and a drill bit to open up parts of the antlers for wiring.
Prepping
If you're a hunter and have real deer antlers, be sure to clean them thoroughly with oil soap. Once they're completely dry, spray paint them with a clear coat of polyurethane. Be sure to clean and spray the faux antlers as well.
Strip the chandelier so that you're left with only the wiring or the desired parts. Feel free to organize your antlers in the pattern or structure of your choice before drilling so that you're sure everything fits together, and that the wiring is the right size for the antlers you chose.
Assembling
Use the drill to make holes into the parts of the antlers that you want to put the lights on and the wires through. String the wires through the antler and arrange them in the order that you would like. Once the wires are through, attach the light bulbs to the light sockets. If they aren't level, use molding clay to make sure the lights are level on the antlers.
Once everything is all together, hang the chandelier on your ceiling and light up the place with some nature-inspired charm.
---
Freelance writer based in NYC. She writes about home repair, decor, and trouble shooting in Hunker. Follow on Twitter @AngelyMercado