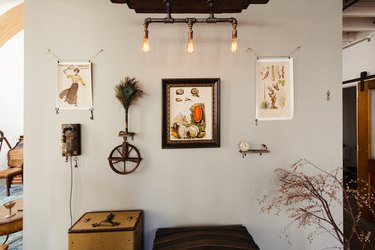 Love rustic style? Well there are plenty of ways to carry your farmhouse decor into the corridors and inject it into every last detail, including the ceiling light fixtures. In fact, if you want farmhouse hallway lighting all you have to do is consider the space (which is sometimes limited) and functionality (small areas need proper illumination!).
Whether your abode leans more traditionally rustic or is full of modern flair, farmhouse lighting fixtures can help enhance the aesthetic. Additionally, since country-style decor tends to feel neutral and subtle, your lighting is a great way to add pops of fun. Think gorgeous oil-rubbed bronze finishes on metal cage pendant lights that don't only belong in the living and dining rooms.
We'll show you how it's done ahead.
1. Use a minimal, seeded glass shade.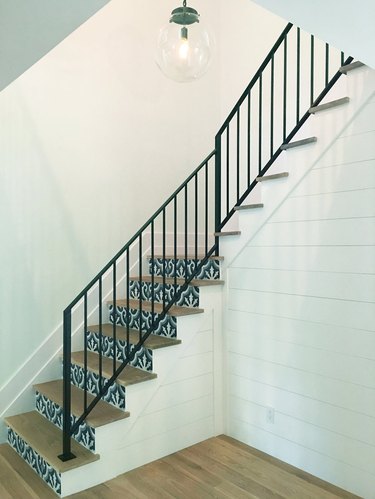 Farmhouse style is sometimes very minimal and usually very neutral. To play up both of those decor aspects, add simple glass pendant lighting with a matte black cord for contrast. Pair the installation with an Edison bulb, and you've got the perfect look. We especially like how the farmhouse lighting fixture matches the railing hallway-meets-staircase by Dichotomy Interiors.
2. Incorporate barn-inspired details.
Celebrate farm life with your hallway light? You can do this with any number of rugged fixtures like Chango & Co. did here. Think brushed nickel lanterns, matte black metal frame barn lights, or a more vintage farmhouse-style ceiling addition. These lights work well in the entry hall as a transition piece from the porch.
3. Find a vintage-inspired lamp.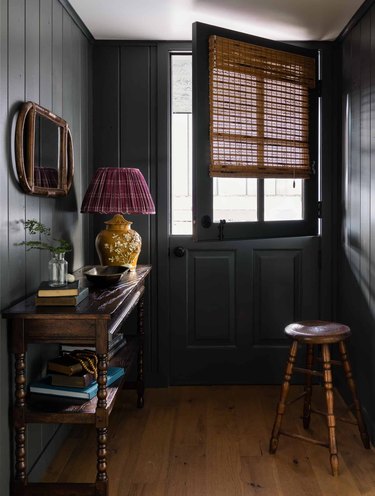 If you have a corridor or entry with a table, you have the perfect space for a vintage-style addition. We're talking hallway lamps. This one from Heidi Caillier Design one feels extra homey thanks to the fabric shade. You can even DIY a lampshade of your own by using fabric that feels reminiscent of a farm. Try plaid, bandana print, or something with sweet florals. The base is up to you, but we suggest brass or even unfinished wood.
4. Make light fixtures out of found items.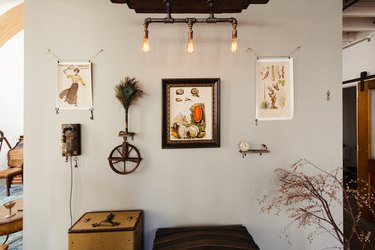 What's so special about this farmhouse chandelier from Rickett & Sones? It's made from found industrial-style pipes with a matte black finish. If you're crafty enough to DIY this project on your own, go for it! But don't limit yourself to metals; driftwood or even old buckets and wagon wheels can work just as well. You'll just need a light kit to get started.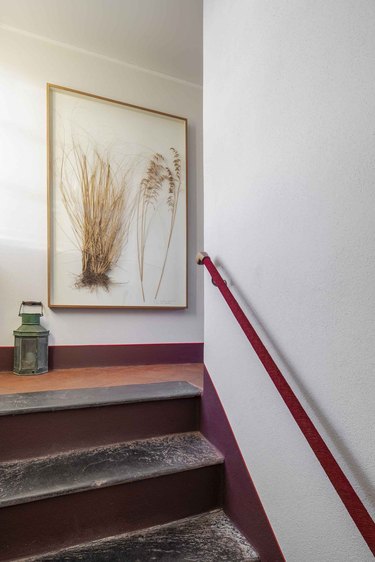 This vintage lantern spotted on Coco Kelley would feel right at home in a barn. While putting it on the floor might not be too practical when it comes to creating light, it definitely looks great. You can get a similar effect by finding old lanterns of your own and outfitting them with either LED bulbs or candles.
6. Leave light bulbs exposed.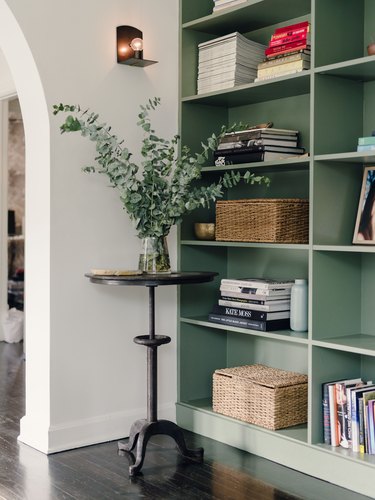 You can use this design trick with a variety of lighting sources. Simply try leaving the light bulbs exposed for a rustic touch. It will look especially cozy if you use the Edison variety. The exposed bulb look is probably best left for fixtures that are high up, though, so you don't blind yourself walking down the hallway.
7. Hang rustic wall sconces.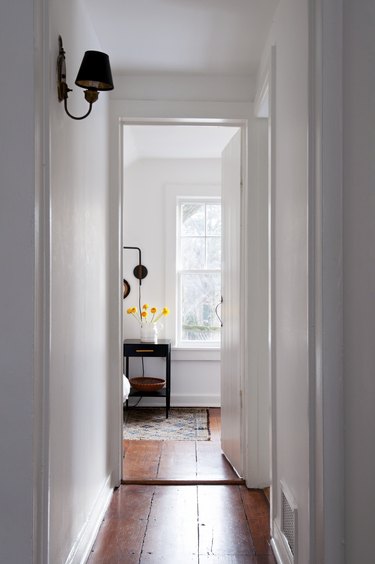 Rustic or antique wall sconces are good for a subtle hallway light. Whereas overhead lighting can feel harsh, a dimmable sconce with a brass base will tie the farmhouse look together.
8. Add drama with a chandelier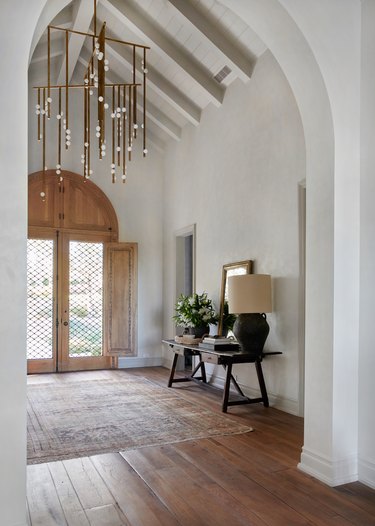 There are a lot of ways to add a touch of farmhouse flair with a chandelier. You could go rustic with something like a wagon wheel and exposed lightbulbs. Or you could opt for something slightly more showstopping, like this interesting take on a chandelier with gold arms and a plethora of frosted glass bulbs from Amber Interiors. It'll make your rustic farmhouse hallway feel more elegant.