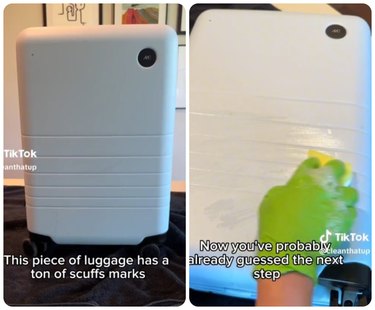 If you own a hard shell suitcase, you know that it can get scuffed and dirty over time. After all, that's the point of luggage — to carry ‌and‌ protect your things. Still, the look can be unsightly, especially if you're a frequent traveler or simply want to keep things clean. But how do you remove scuff marks, exactly?
As janitor and cleaning expert Brandon Pleshek recently shared on TikTok, the task is actually pretty easy. The trick is to use the right supplies — i.e., a bucket of warm water, dish soap, and a melamine sponge, like an Eraser Daddy or Magic Eraser.
Start by adding a few drops of dish soap to the bucket of water, then dipping the sponge into the mixture. Squeeze out the excess, then scrub the entire piece of luggage.
"Some marks and scuffs will come off with one scrub, other might need just a little more scrubbing, — but they'll eventually come clean," says Pleshek in the video.
But take note: It's possible to scrub too hard, so try to use a light hand. "One thing to remember about melamine sponges is that the 'magic' is very fine sandpaper," explains Pleshek in the caption of his video. Thus, scrubbing too vigorously might damage your luggage. To be safe, do a small test in a hidden area, especially if it's your first time cleaning a particular suitcase.
After scrubbing your suitcase, wipe it down with a damp towel to rinse off the soap, then let it dry (or wipe it down with a dry towel). And just like that, your luggage will look good as new.
Tips for cleaning the inside of a suitcase:
Once you've cleaned up the outside, it's time to tackle the interior.
The first step is to remove everything out of your suitcase. Shake out any debris (outside, if possible) and check every pocket. If any of the liners are removable, take them out wash them with warm water and soap. Let them air dry.
Next, it's time to clean the wheels. Remove anything like dirt and hair that might be stuck in them; this will ensure the wheels can move with ease. Wipe the wheels, handles, zippers, and any surfaces with an antibacterial wipe or solution.