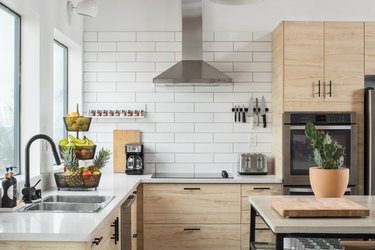 New research from real estate site Zillow reveals that certain amenities can significantly increase the value of your home when it comes time to sell. We bet you won't be able to guess which ones.
The study specifically found that property listings mentioning amenities such as steam ovens, pizza ovens, and professional-grade appliances can sell for 5.3% more, amounting to roughly $17,400 more for a typical home in the United States. Highlighting trendy features like terrazzo or "she sheds" in the listing can also result in a 2.5% sale premium.
"Mentioning differentiators like a saltwater pool, pizza oven, outdoor kitchen, or putting green in a listing description can set a home apart from other properties for sale nearby and increase its selling potential," explained Lily Moore, a Zillow premier agent in Westlake, Texas, in a press release.
However, while they may help fetch a slightly higher price, these personalized features can often mean a slower sale time. "Not every buyer will appreciate a chef's kitchen or a putting green in their backyard, but those who do are willing to pay more for these personalized amenities," said Amanda Pendleton, Zillow's home trends expert. "Post-pandemic homebuyers who had plenty of time for self-reflection now have a greater sense of what they want and need in a home."
The study also demonstrated that homes that sell quickly tend to have practical features like doorbell cameras, heat pumps, and fenced backyards mentioned in the listing. Doorbell cameras and open shelving are budget-friendly upgrades that can speed up a home's sale time by five and three days, respectively.
As for the types of features that may actually hurt your home's resale value, the study shows that tile countertops and laminate flooring can signal to buyers that the home may be dated and that it will need to be renovated in the future. Even walk-in closets have been shown to lower a home's price by 0.7%, as post-pandemic shoppers are looking to maximize the space they use.
In preparing the study, Zillow evaluated 2 million home sales from 2022, taking note of 271 features and design terms mentioned in the listings. Although there are multiple factors that can influence the speed of sale and price of your home, these features revealed what buyers are currently seeking.
In addition to the study, Zillow is also rolling out an AI-powered new tool that allows shoppers to enter exactly what they are looking for, like a home in Arizona with a pool, directly into the Zillow search bar without having to select multiple filters. Now you'll be able to get notified the minute your dream home comes up for sale.