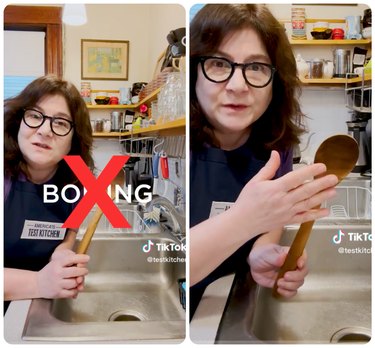 Social media has been buzzing this week with a TikTok hack for cleaning your wooden spoons that calls for boiling the utensils. The original viral video shows a creator placing their wooden spoons in a pot of boiling water for several minutes while they watch all the crud seep out of them, which eventually turns the water a dirty yellow color.
While this cleaning hack does, admittedly, look extremely satisfying, experts say it's a bad idea. Lisa McManus, editor at @testkitchen, says that because wooden spoons are made from natural materials, boiling them will remove their natural oils and allow them to absorb water. She says that as the spoons dry after being boiled, they can actually shrink and crack, which ultimately shortens their lifespan.
The best way to clean your wooden spoons, according to @testkitchen, is to scrub them in the sink with warm, soapy water and a sponge (you can use your regular dish soap). Then, rinse the wooden spoons well with clean water and pat them dry with a dish towel.
And if your wooden utensils are looking a little rough, @testkitchen suggests rubbing them down with a little food-grade mineral oil (alternatively, you can use coconut oil). Rub the oil into the wood with your hands and allow it to cure overnight. The oil will moisturize the wood and get it looking brand new again.
BRB, we're going to go clean all our wooden utensils now.