We think one of the greatest inventions in the world is the dishwasher, but even if you have one of these gems of a home appliance, you're sadly not going to be able to use it for everything in your kitchen. Most importantly, you're not supposed to put kitchen knives in the dishwasher.
That's right — putting a kitchen knife in the dishwasher is essentially committing a cardinal sin. You're pretty much never supposed to do it, as your beloved knives could get easily damaged.
There can be a few issues associated with using a dishwasher to clean cutlery. "One may be the natural wood material that many knives have," says Christopher Costa, director of product for North America at Victorinox, one of the great knife companies of the world. "Natural wood can and will degrade with the moisture and heat associated to mechanical dishwashers."
Another issue is general damage. "Water spraying can shift and move things around in a dishwasher, which can bounce the knives around internally against other items, leading to damage," Costa says.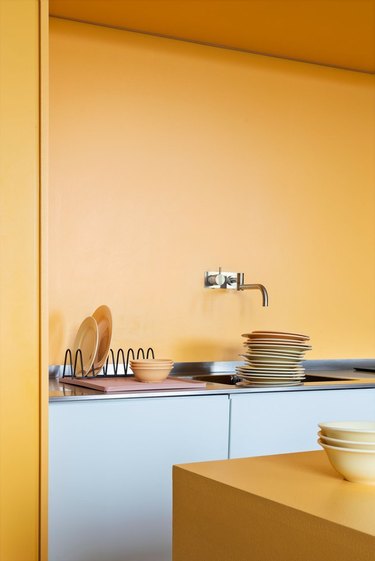 Sometimes knives are technically dishwasher safe, like direct-to-consumer brand Potluck's knife set, but no manufacturer actually recommends throwing the kitchen knives into the machine if you can avoid it.
"We recommend washing knives by hand with warm soapy water," says Minsuk Kim, founder of Potluck. "When handling a knife as you wash it, avoid pointing the edge of the blade toward the hand holding your sponge. Try to wash your knives soon after you finish cooking and dry them immediately to help prevent rust and stains."
The bottom line: skip putting your kitchen knives in the dishwasher and wash them by hand instead to ensure their longevity.
---
Stefanie is a New York–based writer and editor. She has served on the editorial staffs of Architectural Digest, ARTnews, and Oyster.com, a TripAdvisor company, before setting out on her own as a freelancer. Her beats include architecture, design, art, travel, science, and history, and her words have appeared in Architectural Digest, Condé Nast Traveler, Popular Science, Mental Floss, Galerie, Jetsetter, and History.com, among others. In another life, she'd be a real estate broker since she loves searching for apartments and homes.