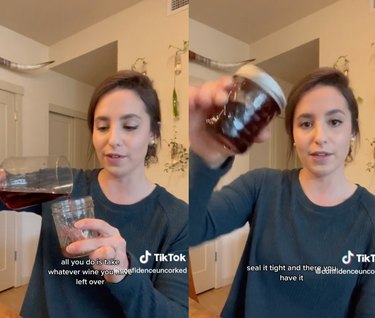 Having leftover wine might seem like an impossibility to some, but it really can happen to others. The tricky thing to navigate with leftover wine is figuring out a way to keep it fresh. Have you ever taken a sip of wine a day or two after it's been opened only to immediately pour it out because it tastes funky? Such a shame. This is because wine bottles are large, so they have a significant amount of space for oxygen to gather and then curdle the remaining wine. Tragic!
Lucky for us, a sommelier on TikTok named Warner (aka @confidenceuncorked) has just shared a handy and easy hack for storing leftover wine in such a way that keeps it fresher for longer.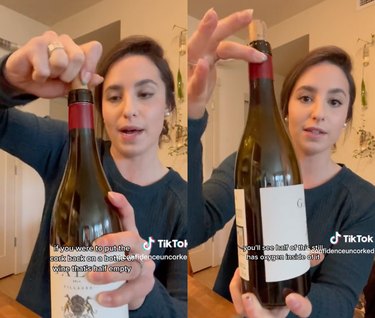 So, what's the secret? All you need is a Mason jar!
Warner first explains how the porousness of typical wine corks plays a role in allowing unwanted oxygen into wine bottles, leading to sour wine disasters. A smaller storage container with less room for oxygen that also has a lid or cap that screws on tightly is better suited for keeping pesky oxygen out and freshness in. So, the next time you have leftover wine, try storing it in a Mason jar instead of its original bottle.
Pouring wine from its original bottle into a stout little Mason jar might strike your dinner party guests as odd at first, but once you're enjoying day-old wine that's still just as tasty as a newly opened bottle, you'll get the last laugh.