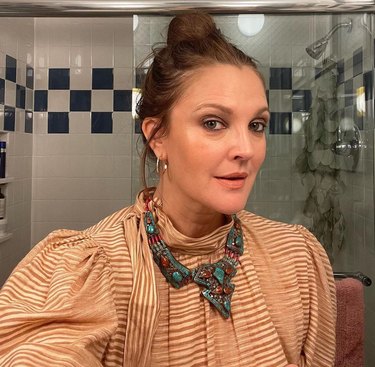 What's not to love about Drew Barrymore? She's optimistic, charismatic, and based on a recent video she posted on Instagram, extremely relatable. "Show me your room before and after you clean it…" wrote the talk show host, accompanying a video of her very, ‌very‌ messy bedroom.
In Barrymore's bedroom, you can see an armchair littered with clothes, a desk completely covered in papers, a floor topped with countless additional papers and random objects, and a nightstand stacked high with books. The actress also shows us a glimpse of her bathroom, which isn't as bad, but appears a bit disheveled with open cabinets and scattered products.
While the "before" view of Barrymore's space is relatable, the "after" is much more satisfying. In the clip, she shows a perfectly organized closet, a spick and span bedroom, and a bathroom that is clean and ready for self-care. This is definitely inspiring us to give our own bedrooms, bathrooms, and closets a solid clean.
Commenters also praised Barrymore for her authenticity, saying that the star's video made them feel less bad about their own messes. "I'm so glad you're a normal person!" wrote one user.
Celebs, they're just like us.