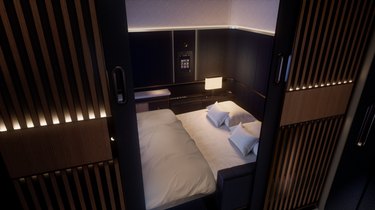 As much as traveling the world is one of life's great joys, flying on a tiny aircraft to get to your destination can be a nightmare. Crammed like sardines next to strangers, elbow to elbow without any legroom — it's enough to deter travel altogether, despite the payoff. Surely there has to be a better way. Fortunately, thanks to the airline Lufthansa, there is.
The German airline recently unveiled that starting in 2024, their Airbus A350 aircrafts will feature "First Class Suite Plus" accommodations, which are described as a "private room above the clouds." This new level of luxury is an expansion of their existing premium First Class tier, upping the offerings by providing a separate double cabin with ceiling-high walls, a closable door, large table, and two spacious seats that can be combined into a comfortable double bed if desired.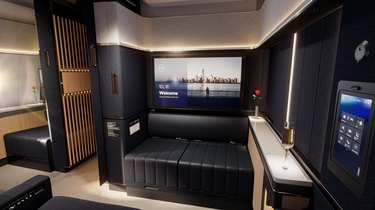 The seats available in these First Class Suite Plus rooms are nearly one meter wide, and can be heated or cooled to their passenger's liking. They can also be hooked up to one's personal mobile device to connect to the plane's entertainment system. The rooms even include wardrobes so that passengers can store their belongings and change comfortably as they travel.
Another widely lamented demerit of air travel can be the quality of in-flight meals. But not when you travel in Lufthansa's First Class Suite Plus! These seats come with access to the airline's gourmet menu, served to passengers whenever they please — not just at predetermined meal times. These meals can be eaten either in the privacy of the First Class Suite Plus rooms, or at the large communal First Class table for more of a restaurant-like dining experience.
"The First Class Suite Plus conveys the feeling of privacy and individuality similar to a hotel room — only at an altitude of 11 kilometers," explained Jens Ritter, CEO of Lufthansa Airlines, according to a press release.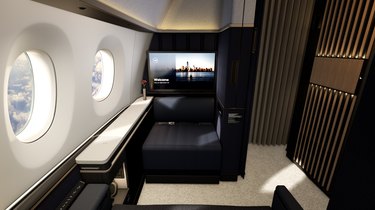 As nice as these First Class Suite Plus accommodations sound, they also seem dangerously decadent; once you experience air travel at that echelon, would you ever be able to go back to coach again?