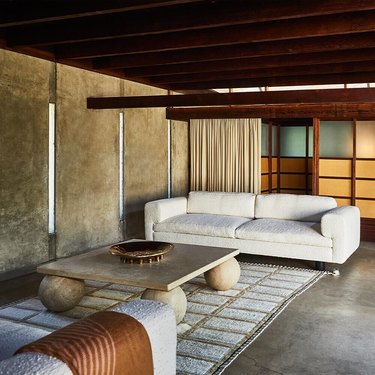 What do the Colosseum in Rome, the Sacré-Coeur Basilica in Paris, and the Getty Center in Los Angeles all have in common? Each building is made from travertine, a form of limestone that has been popular throughout the ages. As with all materials, that popularity ebbs and flows — right now, however, we're seeing travertine make a major comeback.
To find out why we are currently in the midst of a travertine resurgence, we've spoken with three interior designers who have shared their thoughts on the classic stone and offered tips on how best to incorporate it into the home.
Travertine is a dense type of limestone that's formed when calcium deposits are put under pressure. Whereas some types of limestone are formed in the sea, travertine is specifically formed on land, according to the Natural Stone Institute — though there's an element of water involved. For instance, you can find travertine deposits along the Aniene River near Rome as well as in Mammoth Hot Springs in Yellowstone National Park, per Britannica.
As for what it looks like, expect a textured surface in hues ranging from beige to burnt orange. "Travertine is a limestone with a lot of movement," Noelle Isbell, principal and founder of Noelle Interiors, tells Hunker. "Travertine can be either cross-cut, which provides a clouded movement, or vein-cut, [which] is more linear."
Why is travertine trending?
"There is a real resurgence of '70s design, and travertine feels very in line with that," designer Isabel Ladd of Isabel Ladd Interiors, tells Hunker. "Last fall, while in NYC, I was on my way to the Kips Bay Designer Bash, and I came across 800 Fifth Avenue. Its lobby was top-to-bottom unfilled travertine and was installed in the late '70s. The stone's color, texture, and geometry felt very '70s glam, and it makes sense, as things always go in and out [and] then back in fashion."
Nostalgia aside, travertine is an incredibly practical material. "Travertine is a very popular material due to its durability and extended life span — specifically because it can be a great option for high-traffic areas or spaces that are subject to wear and tear," Tansu Ulu, design and brand manager of Country Floors, tells Hunker, noting its inherent nonslip surface and insulating nature. She adds that travertine's neutral coloring makes it versatile across design styles.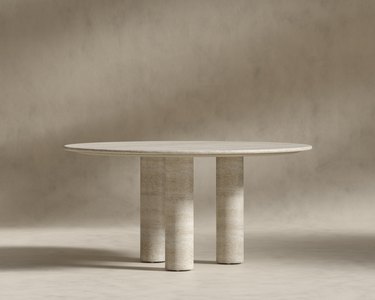 "It's a warm, minimalistic material people love," says Ladd. "As a maximalist, it is an excellent foundation for you to layer on the color pattern and pizzazz."
These days, travertine isn't just being used for flooring or tiling — it's being incorporated into furniture too. Rove Concepts, for instance, launched the limited-edition Black Label collection last fall, and it featured a number of travertine furnishings.
What is the history of travertine in design?
Because there are many travertine deposits near Rome, it should come as no surprise that the ancient Romans frequently used the stone as a building material for some of their most important monuments, including the Colosseum. That's why neoclassical architecture, such as what you'd find at the Lincoln Memorial in Washington, D.C., also frequently uses travertine.
By the second half of the 20th century, travertine was in the midst of its most recent popularity surge, not just in exterior architecture (take a look at the Getty Center) but also in interior design. "Because of its accessibility, developers in the late '70s and '80s used it in lobbies throughout all those new glass towers and high-rises," says Ladd.
The material made it into residential homes too, typically as travertine flooring or tiles. "It was popular throughout the '80s and '90s to pair with Mediterranean design," says Isbell.
How should we use travertine in the home?
Thanks to its durable properties, travertine is ideal for high-traffic spaces. "Unpolished travertine has a natural nonslip finish that works well for floor applications," says Isbell. But because it can be easily cleaned, you can also use it as a backsplash in a kitchen or as tile in a bathroom. "It is also commonly used for cladding or sculptural elements, like a fireplace mantel or on columns," says Isbell.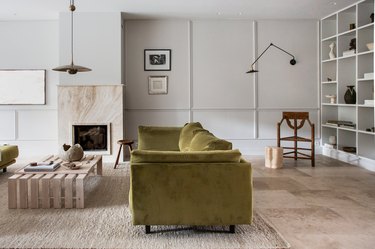 Of course, travertine is also great for outdoor use. Many homeowners place it in pool areas for its nonslip nature. "Because it is so durable and resistant to weather, travertine is a fantastic material choice for outdoor applications," says Ulu. "It can be used to build a walkway, patio, or even an outdoor kitchen."
Ladd has already used it in exterior kitchens, but she has a new plan for the material. "I find it strange that no one uses it for indoor kitchen counters. I may create a new trend since so many interior floors are made from it," she says. "Maybe it's time to bring travertine 'up'!"
How to maintain travertine:
While travertine is durable, it does require a little bit of maintenance, especially when selecting a type such as honed and filled travertine. "Travertine is a porous material, which means it is prone to staining and may require regular sealing to protect it from spills and other stains," says Ulu. "When cleaning travertine, it is important to use a pH-neutral cleaner and a soft, damp cloth or sponge to avoid damaging the surface."