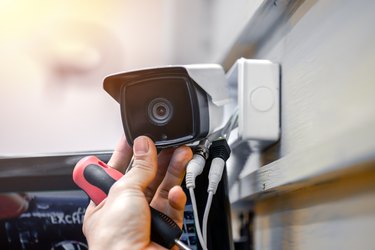 When it comes to professionally installed home security systems, there are so many reliable companies that have been in the business for a long time and have earned stellar reputations, such as ADT, Vivint, Guardian Protection, Xfinity Home and Brinks, that choosing among them can be difficult. The problem with all of these companies is that none of them offers a self-monitoring option, and they all require a long-term contract and a monthly fee in the neighborhood of $30 to $40 and up. That probably won't break the bank, but if you own a small house and don't need or want premium coverage, it makes sense to consider one of the many do-it-yourself packages available from such companies as SimpliSafe, Protect America, Ring, Abode and Frontpoint.
A DIY home security system can do much more than simply alert the police or fire department. Some systems aren't monitored remotely and sound a siren or buzzer when something happens, some can turn the lights on and off and some can work in conjunction with Amazon Alexa or Google Nest Hub to control other smart home accessories. It's possible to equip your security system hub with functionality that measures the temperature and humidity inside the home and controls the central air system accordingly. A home security system can improve electricity management, lower your homeowners' insurance premiums and even help you keep tabs on the kids.
A word to the wise: You need a certain amount of skill with electronics to set up security equipment, so if you don't feel sufficiently tech savvy, then professional installation is a better option for you. However, if you feel confident mounting window and door sensors, in-room motion sensors, video cameras and smoke and carbon monoxide detectors and connecting them all to a central controller, you can save a lot by skipping the professional install and the contract that comes with it. Also, it's good to know that some companies offering DIY home security systems do offer installation for a nominal fee.
What's Included With Professional Installation
Professionally installed home security systems are guaranteed to work, and if something does go wrong, you know whom to call. Installers will conduct a detailed analysis of your property, assessing its vulnerabilities, and design the alarm system based on the level of security you need. Every home is different, and not all homeowners want the same amount of protection, so a professional installer will devise a customized plan that provides the right set of sensors without overdoing it. A pro won't miss key vulnerabilities that a homeowner might overlook, such as a basement window partially blocked by bushes that can be easily broken.
If you're looking to integrate your home security system into a smart home array, a company such as Comcast's Xfinity Home, which also provides internet and phone services, is equipped to help you do that. A professional installer can link your carbon monoxide and smoke alarms and other smart devices, such as thermostats and appliances, to a central monitoring station and work all the sensors into your decor to make them as unobtrusive as possible. If you have a large home with multiple rooms and potential entry points, this is something you'll have a hard time doing yourself.
Comprehensive monitoring is probably the number-one benefit of professional installation, but because it comes with a contract and monthly monitoring fees, the cost usually ends up being several times the upfront installation fee. A top-level monitoring service usually includes automatic notification of the proper authorities in the event of a break-in or fire, which offers peace of mind whether you're home or on vacation, at a cost of approximately $900 over a two-year period. You can get professional monitoring for a DIY system. It's less expensive and optional, and it usually doesn't offer the same level of service.
When to Choose a DIY System
A professional home security system isn't always the best choice, particularly for people who live in apartments or small houses. In homes with a limited number of entries, a professional system might not be practical since one or two well-placed cameras combined with a video doorbell and motion sensors that trigger security lights may be all the protection that's warranted. In such situations, a monitoring service can be an unnecessary expense, and since a professional installer always requires a contract, it makes more sense to go with a DIY setup.
Choosing a DIY installation doesn't mean you have to forgo remote monitoring by any means. Some home security companies, such as SimpliSafe and Frontpoint, offer remote monitoring for about half of what you pay for a full-on professional installation, and if you get partway through the installation process and decide it's beyond you, SimpliSafe will complete the installation for $79. DIY monitoring packages may carry an activation fee, but they don't require contracts, so you can discontinue the service when you want, but it might not include such perks as automatically alerting the authorities, so it's important to check. A service that simply messages you when a problem occurs could leave you scrambling for help when a fire or break-in occurs, and you're out of town.
If you're unsure about how deeply you want to get involved with home security, a DIY installation may be just what you're looking for. You can start small, perhaps with a video doorbell or a single surveillance camera, and add to your system as you get the feel for how it works. On the other hand, you can also choose a package that includes wireless sensors, cameras and a control panel — all the equipment you need plus detailed instructions for setting it up. Many packages come with software that you install on your laptop or mobile device so you can monitor the system remotely yourself.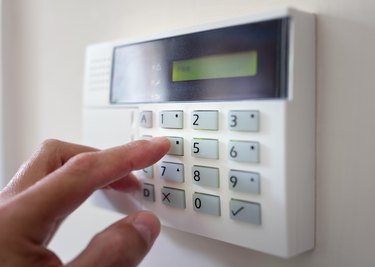 When Professional Installation Makes Sense
Having a home security system installed professionally may cost more in the long run, but there are a number of reasons for opting for a pro system rather than a DIY one:
A professional installer knows how to position security cameras and motion sensors so they work the way they're supposed to work. An inexperienced installer may position a camera with a partially obstructed view or may set motion sensors to trigger false alarms.
The contract for a professional system typically includes a warranty on equipment and free maintenance. If something goes wrong, you can usually resolve it by making a phone call. If you have a DIY system, you're responsible for repairing or replacing anything that breaks, and the extra expense can significantly diminish the financial advantage of a DIY system.
If you want to integrate your security system with Wi-Fi smoke and carbon monoxide alarms as well as other home automation systems, you're better off having the system installed by a knowledgeable pro than trying to do it yourself. As part of the installation, a pro will show you how everything works, which is information that is often difficult to glean from a manual. Plus, when you have questions, you'll know whom to call.
On the downside, opting for professional installation may result in receiving more equipment than you actually need, and that could unnecessarily bump up your upfront costs. Some installers receive commissions for selling you extra equipment. Moreover, because the system is designed specifically for your house, you won't be able to take it with you when you move. Finally, you have to book an appointment for installation, and who wants to wait around for workers to show up sometime between 9 a.m. and 5 p.m.?
DIY vs. Professional Installation Costs
When it comes to upfront costs, a DIY system is more expensive than a professionally installed one, but in the long run, the pro system will end up costing more because of the monitoring fees. If you opt for remote monitoring of your DIY system, the monthly cost will typically be lower — $14.99 per month compared to an average of $34.99 per month for a professional system. That's a difference of $240 per year, which is roughly the cost of installing a DIY system, and don't forget that your contract may last five years or more, so multiply by five to calculate the real cost difference.
Companies that offer professional home security systems usually offer free or very inexpensive installation knowing they will make up the difference in one or two years. ADT offers free installation, and its monthly fee can be as low as $28.99, which is lower than most, so ADT may be the best value when it comes to professional systems. It doesn't offer clear pricing guidelines on its website, though, so mileage may vary according to where you live and the size of your system.
Anyone on a budget with a small house that is easy to cover is probably better off installing a DIY system, especially someone who is willing to self-monitor wirelessly on a laptop or mobile device. Expect to pay $229 at a minimum for equipment for a DIY system and an extra $79 to $99 for installation if you choose a company that offers it, such as SimpliSafe or Abode.
Tips for DIY Home Security Systems
If you're planning a home security system that notifies the police or the fire department, most communities require you to apply for a permit, and the modest cost, usually about $25, recurs annually. The actual permit is a sticker that goes on a window, and if you don't have it, you could be in hot water if a false alarm brings the police, and you'll probably get a fine. You also need a permit for a professional installation, but the installers usually arrange that for you as part of the service package they offer.
The first step in the installation process is to figure out where to put cameras and sensors. The front door is an obvious place, and you can often cover it with a single bullet camera or a video doorbell. Other entry doors as well as ground-floor windows facing away from the street are also likely places for video surveillance, although you can also monitor windows with transmitters, which are preferable to motion sensors. Motion sensors send the majority of false alarms, and they can only detect a burglar who has already made it inside the house. Transmitters, on the other hand, are connected to magnets that detect window movement and are far less prone to false alarms.
Fire is a greater threat in most homes than burglary, so your smoke and carbon monoxide alarms should connect to the same control panel as the motion detectors and cameras. You have your choice between a single unit that contains both the control board keyboard and the communication interface to contact the monitoring service, but a two-part panel is better. If the interface is in a separate location — usually near the telephone — a burglar entering through the front door can't disable the system by ripping the keyboard off the wall.