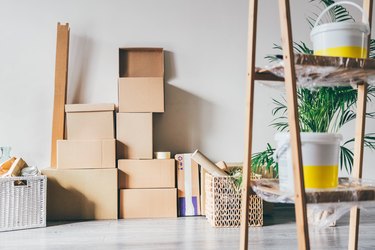 If you thought catfishing — the virtual phenomenon of deceptively luring someone by using a fake persona or identity — was unique to social media, you'd be mistaken. "There are several forms of real estate catfishing," says Nicole Beauchamp, an agent at Engel & Völkers in New York City. "Generally, the uptick in online real estate activity has brought a higher degree of transparency in transactions, but it has also created an increased risk for scams as well."
Interested in learning about how you can spot a catfishing scam while searching through online listings? From distorted listing photos to phony addresses and more, here's what real estate experts say to watch out for while searching for houses and rentals on the web.
1. Double check distorted listing photos.
Just as people use filters and Photoshop to distort their social media snaps, some dishonest landlords and agents use wide-angle lenses and other photo editing tricks to enhance the online images of less-than-perfect homes. "If you're unsure about whether or not a photo has been tampered with, Beauchamp recommends checking the listing history of the property. "In many instances, sites will provide the previous listings of the same property, so you compare descriptions and photos to see if they're being accurately depicted," she explains. "If a property looked like a wreck before but the current listing doesn't mention a renovation, that's a giveaway."
However, agent Tamar Asken of Avenue 8 says it's important to note that what some might perceive as distorted photos could also just be a virtually staged space. "In these scenarios, it's crucial for agents to be upfront and honest about what is accurate in images and what is adjusted," she explains.
2. Verify potentially phony addresses.
According to John Walkup, cofounder of UrbanDigs, falsifying the address of a property in an online listing is a lot more common than you might think. "Misleading addresses — typically a switched unit name, such 4A to A4 — is unfortunately typical and meant to evade days on the market and price cut statistics," he explains. While most home buyers will discover an address is phony before making an offer, it can be difficult for renters, especially ones trying to secure a property from out-of-state, to know the difference.
Fortunately, sites like StreetEasy and Apartments.com allow you to enter the full address of a property to search for its listing history. This way, you can double check that the descriptions, photos, and floor plans included in the current listing align with the one's in previous listings of the property.
3. Watch out for fake rental listings.
Believe it or not, there's an increase in scammers swiping photos and property descriptions from bona fide real estate websites to create fake rental listings online. "These advertisements have been rampant in the last decade," Beauchamp says. "Often the properties are not available or listed for sale and not being offered for rent."
To ensure you don't put a deposit down on a rental that doesn't exist, Susie Brans, a realtor at Richardson Properties recommends comparing the listing price with similar properties in the area, and if possible, checking the site out in person. "Have someone visit on your behalf if you're not in the area," she says. "If the person or company renting the property says they can't show it, take this is as a red flag and step away."
4. Keep your eyes peeled for spoofed email addresses.
The F.B.I. says wire fraud scams — where scammers use a spoofed email address to request that buyers wire their down payment funds to fraudulent bank accounts — are on the rise. A spoofed email address is created by a sender who forges (or "spoofs") a legitimate email address for the purpose of deceiving the recipient. After hacking into a real estate agent's account, these fraudsters closely monitor email exchanges between buyers and agents before swooping in at the 11th hour with false wiring instructions using a spoofed email address.
To avoid being duped out of a down payment, Beauchamp says it's crucial to always pick up the phone and voice verify any wire instructions you receive with your agent, title company, or attorney. "When you are on a mobile device, you can also tap on the sender's name to double check the email address that sent the information," she adds.
5. Vet the real estate agent before you send money.
Sadly, not all listing agents are as credentialed as they claim to be, and what's worse, scammers often like to pose as brokers to swindle renters out of deposit funds. Whether it's a rookie agent falsely using a big-name brokerage firm's logo to increase their visibility, or a criminal pretending to be a rental agent and requesting a certified check, broker Sheila Trichter of Warburg Realty says there's one surefire way to ensure you aren't deceived. "Unless you secure a broker directly through a major firm, always verify their identity (and the firm) before you send a check," she says.